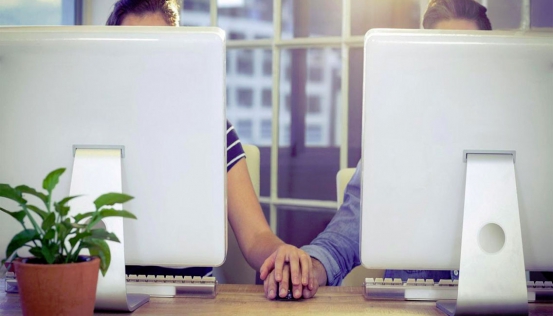 Ben Friberg knew he had met someone special at work when they bonded over their knowledge of Greek mythology.
He had just started working as a photographer at a television news station in Austin, Texas in 2007 and he and his colleague, a reporter, were waiting to interview someone for a story.
"We were still in the 'getting to know you' phase," says Friberg. They started discussing the movie Troy, and she pointed out the discrepancies between the movie and the Iliad, the Greek story it loosely chronicles.
"I can remember thinking, 'this is going to be a different type of relationship,'" says Friberg. He's talking about his 'work spouse', a significant, but platonic, other whom you pair up with at the office. Conventional wisdom holds that colleagues shouldn't get too close, but the changing nature of the workplace is throwing traditional human resources manuals out the window.
Platonic friendship
These days, close relationships with our colleagues are often inevitable, and more of us have what they call 'work husbands' or 'work wives' in their office. Career website Vault.com found that every year since 2010 about 30% of the people they surveyed said they had a 'work spouse', with the exception of 2013 when that share jumped to 44%. But what exactly sets a work spouse apart from a work friend, and why are work 'marriages' so relatively common now?
Chad McBride, a communications studies professor at Creighton University in Nebraska in the US and Karla Mason Bergen, now an assistant professor of communication studies at the College of Saint Mary in Nebraska, set out to define the term when they started noticing it referenced more and more on television. It was even used to describe the relationship between former US President George W. Bush and Condoleezza Rice, his secretary of state and national security advisor.In 2015, they conducted an online survey of 276 people. Based on their findings they defined a work spouse relationship as a "special, platonic friendship with a work colleague characterised by a close emotional bond, high levels of disclosure and support, and mutual trust, honesty, loyalty, and respect."
Romantic feelings
In other words, the relationship is more intense than other workplace friendships and shares some characteristics with marriage, but without the romantic component. Only two people in McBride and Bergen's survey reported having romantic feelings or flirting with their work spouse.
In McBride and Bergen's study, participants talked about how their work spouse shared similar aspects of their personalities like a sense of humour or intelligence, and in many cases stated they felt a high level of trust and support with their work husband or wife.
Some people said that their work spouse relationship improved their work and made them more productive. Furthermore, the professors found that people reported having more fun at work and were more loyal to their companies because of their relationship with their work wife or husband.
Friberg says that he and his work wife, who didn't want to be interviewed because she is now an anchor at the station, worked so well together that their managers agreed to let them exclusively work on pieces together.
"It helps get the best out of you," he says.
The right conditions
The emergence of work spouses can be seen as a symptom and extension of the increasingly blurred lines between work and family life, says Rick Lash, a senior client partner in the Toronto office of human resources consulting firm Korn Ferry Hay Group.
Technology and the ability to work from home has made those traditional distinctions fuzzier, allowing us to bring more of their personal life to work, and vice versa, he says."Five years ago everyone would feel mortified if they heard a dog barking on conference call," says Lash. "Now it softens the relationship."
 What's changed in recent years, says Lash, is that the nature of white collar work is becoming more ambiguous and complex. We have to work in teams to solve new challenges. Rather than creating strict boundaries between work and personal lives, companies are actively trying to foster bonds, sending us on retreats and holding events so we can get to know each other.
That creates more opportunities for work spouse relationships to develop and makes workplace friendships far deeper than in previous generations, says Lash. "With a work spouse you can be more vulnerable and be more open with feelings and frustrations."
Taboos and 'divorces'
Even though work spouses are becoming more common, many of us still bristle at the term. While Friberg posts regular updates about his work wife on Facebook, she doesn't call him a work husband. He explained she's married and doesn't want viewers to get the wrong idea about their friendship.
About 40% of the people in McBride and Bergen's survey said that even though they had work spouses, they didn't use the actual title. "It speaks to the taboo nature of the term," says McBride.
One problem is that the idea of a work spouse doesn't fit into any neat relationship categories like family, colleague or friend, says McBride. That ambiguity can cause confusion and annoyance, ruffling office feathers.
When he and Bergen were in graduate school together, he recalls, people referred to them as work spouses. "I knew why they were saying that and it rubbed me the wrong way. Because she has a spouse and it's not me."
"I definitely have an office husband," wrote one respondent from the 2014 Vault Office Romance Survey. "He's my regular lunch buddy, confidant, and sounding board. Fortunately, I've also become good friends with his actual wife!"
While McBride says that in general these relationships can be good for companies because of their improving effects on employee happiness, productivity and loyalty, it can also make other employees jealous and lead to charges of favouritism, especially if the relationship is between colleagues at different levels.
And there's another downside too: the possibility of work spouse divorces. As one person wrote in Vault's 2015 Office Romance Survey: "My work wife just took a new job, and I am so miserable. In need of new work wife."