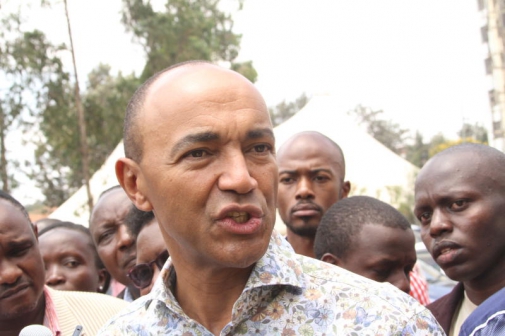 Former Gatanga MP Peter Kenneth yesterday dared Senator Mike Sonko to a political duel, saying the Nairobi governor will not be elected through consensus.
Kenneth said he cannot hold talks with the senator because he keeps hurling insults and has no development agenda.
He told Sonko to take the independent route if he cannot work with his Jubilee counterparts.
Kenneth, who was meeting more than 1,000 Nairobi Jubilee aspirants in Nairobi, hit out at Sonko and Governor Evans Kidero, saying the city is yearning for better leadership.
"You cannot hold a decent conversation with people who keep hurling insults. I have now changed my mind, I do not want a consensus. Let us meet at the ballot," said Kenneth.
The former presidential aspirant who was flanked by a number of MPs, condemned Sonko for his behaviour after his nomination certificate was delayed at the party headquarters.
"I did not start a fight when my party certificate was delayed by a day. For Sonko to act the way he did, means he has doubts whether he will win the party primaries," he said.
VOTER REGISTER
He called on party officials to conduct the party nominations through the voter register and not the Jubilee Party smart cards which he termed "faulty".
He said subscribers of the cards were experiencing technical difficulties which could interfere with achieving free and fair party primary results.
He questioned Kidero's leadership, saying the city is in a dilapidated state.
He said the county government had made the cost of doing business in the city harder, citing the increase in permits for small traders.
On the hawkers' issue, Kenneth said they should not be chased away from the city before an alternative space is identified by the county government to relocate them.
Starehe MP Maina Kamanda lashed out at Sonko, terming him an "inconsiderate leader."
"You can keep your votes if this is the kind of behaviour you are portraying to Kenyans," said Kamanda.
"In every community or market, there is always a mad man and we will either pull Sonko close or let the party nominations decide," said Mathare MP Steven Kariuki.