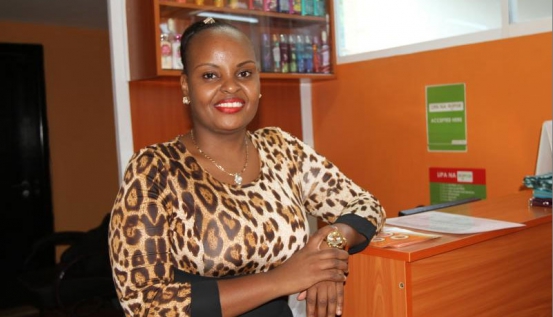 Rachel Muraya was your typical girl next door, with a happy life, courting a young man she had met in the course of her work and with big dreams for her future. Life was well-paced and she would never have anticipated how it would all come crashing down. The young man died two weeks after their wedding and just as she was coming to terms with her loss, she found herself grappling with yet another disaster.
"I worked at Ashleys in Westgate as a beautician for about six years. In 2010 I was at the Mall, Westlands, when I met my husband, who was working there as a barber," she says.
The lovebirds courted for three years of bliss and  when Rachel was 26, they decided to wed. "On Mashujaa day, October 20, 2012, we had our big wedding at Consolata Shrine and then went on our honeymoon," she says.
The marriage came to an abrupt end when her husband died on November 9, only 14 days after their wedding. He had been ill but was misdiagnosed, and by the time it was discovered that he had pneumonia, it was too late.
Still grieving, she resumed work in December 2012.
On the morning of September 21,2013, she woke up restless and didn't really want to go to work. "I did not feel like leaving the house, but I forced myself to go in the afternoon that Saturday. I did not know that a few minutes after I had arrived, I would lose my foot," she says.
In the living nightmare that was the attack, amidst the commotion, she ran to the rooftop of the building "I thought I would be safe there," she says. One of the attackers saw her go there and hurled a grenade in her direction. It went off right in front of her.
A searing pain followed, and it would be one and a half hours of agony before she was rescued by the Red Cross Secretary General, Abbas Gullet. Not that she knew who he was when he arrived. "I was bleeding and so thirsty and I was just shouting at him, 'wewe mzee nipee maji!' as he tried to calm me down," she says.
Her right foot was injured so badly that it had to be amputated. She also suffers pains from a shrapnel that got stuck in her left leg and cannot be removed without damaging the leg.
She needed four operations on the remaining part of the amputated leg over the next year. "Some of the shrapnel in my left leg are inside the nerves and it is very difficult to get them out, because if the nerves are touched, the whole leg is dead," she says. "It really pains me a lot especially in cold weather  and I can't walk on rough floors because the shrapnel pokes me . I survive on very strong painkillers."
Joyce Lay, the women's representative for Taita Taveta gave her a wheelchair that she had to use for about seven months, before moving onto a crutch and physiotherapy.
For years, she wondered if misfortune and loss were her lot in life and if she would ever recover. "From 2012 to 2015 I kept asking God, 'why me, why me?' In 2012, I lost my husband of two weeks, in 2013, I lost my foot in the terror attack. In 2014, I underwent four operations. In 2015, I underwent another operation and I was at home for one year without work. I kept asking myself, which year I would finally celebrate."
She calls Dr Gullet dad, as he kept checking on her, making her feel better about her situation. She also expresses deep gratitude to Joyce Lay and Najma, who encouraged her that she would one day walk again.
She finally got her lucky break. After her story was highlighted in the media, Red Cross, Westgate staff and Safaricom put up a business for her that was in line with her skills and experience as a beautician. They put up a high-end salon for her at the Boma Hotel which belongs to Red Cross and on 12th June 2015, the Rarayah Beauty Haven was born.
She started off with three employees and now has seven. "Red Cross markets for us and brings us clients," she says. The business has however been able to stand on its own merit, thanks to her business acumen, attitude and great relationship with her employees.
"I told myself that 2016 would be my year of full abundance. Becoming a boss is a good thing because you give encouragement to people. I tell them that one has to have a heart of forgiveness," she says, in reference to her Westgate ordeal. "What has helped me move on is God, my family, my spiritual mother  Reverend Ruth Wamuyu and friends. And I always say that time is the best healer. I now fully concentrate on my business and if God says yes, I will start my own family someday."