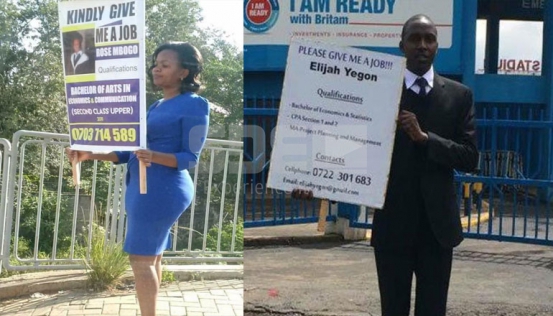 Patrick Muthomi exemplified the grave state of unemployment in Kenya in August last year, when he took to Thika Superhighway with a placard to beg for a job.
The 28-year-old graduate displayed his qualifications and contacts. His request went viral on social media and soon after, Chandaria Industries offered him a job.
Before his lucky break, Muthomi was among the one in every five Kenyan youth of working age who is not in employment, according to a World Bank report released in March 2016.
Muthomi had tarmacked for over two years, dropping job applications in nearly all companies and organisations in Nairobi and in some counties, but without much luck.
"I thought advertising myself along the Thika Superhighway would touch a company boss or human resource manager to sympathise with me and offer me an opportunity. This was a last resort, but though it paid off, it is not the best way to hunt for a job and I would not advise others to try it," says Muthomi.
According to the World Bank, unemployment among youth in Kenya stands at 17.3 per cent, three times worse than Uganda and Tanzania, where only one in 20 youth are jobless. This explains the unorthodox methods that educated but desperate youths have resorted to in a bid to catch the attention of employers.
Thousands of these youth spend time at points dubbed 'jobless corner' in Nairobi's estates (also referred to as 'base'), recreational park and the city centre in areas like outside the Hilton Hotel. You'll notice them with their tattered brown envelopes stuffed with curriculum vitaes, certificates, and dejected looks that betray the hunger in their rumbling stomachs as evidenced by dry lips.
That, and the urgent matter of where they will get bus fare to wherever they call home, if the whoever is hosting them will not toss them out and whether they will be lucky to get a meal, are constant dark clouds that hover over their heads. Many give up the fight for blue-collar jobs and resort to casual and menial work to make ends meet despite their qualifications. In some instances, some of the youth end up as criminals.
But why aren't these youth finding jobs?
According to the 2016 National Micro, Small and Medium Establishment (MSME) Survey, about 2.2 million MSMEs have been closed down in the last five years. This translates to a loss of more than 4.4 million jobs, if every business had hired at least 2 employees, bearing in mind that most of these MSMEs are shutting down at the age of 3.8 years.
The role of government in the growth and development of the MSME sector is key to ensure that these companies thrive, but these companies are grappling with various challenges, forcing them to rethink their operations and either shut down or reduce their employees.
"The role of the government ranges from regulatory to policy formulation. Specific areas for government intervention include policy development, business incubation, capacity building and access to finance and markets," said the Cabinet Secretary in the Ministry of Devolution and Planning, Mwangi Kiunjuri, during the launch of the report.
The report, which was designed by the Kenya National Bureau of Statistics (KNBS) in collaboration with the Institute for Development Studies (IDS) of the University of Nairobi, African Centre for Economic Growth (ACEG) and K-Rep, further indicates that some of the reasons cited for the closure of these businesses include shortage of operating funds, too few customers, and shortage of stock or raw materials, as well as competition.
According to Kiunjuri, there are over 7.4 million MSMEs in the country. "Despite all these, the sector continues to experience many constraints that have inhibited the realisation of its full potential, such as unfavourable operating environment," he noted.
MSMEs are not the only ones grappling with these challenges. Last week, telecommunication firm, Airtel, laid off about 100 employees, adding to the number of 60 employees laid off last year in January.
Since its entry into the Kenyan market, back in the year 2000 as Kencell, the telco has been battling for the Kenyan market share in the telecommunication turf. Kencell was then sold to Celtel in 2005, which also sold the business to a Kuwait-based firm, Zain in 2008.
In 2010, Zain then rebranded to Airtel in a bid to increase brand recognition, as well as market share that was by then dominated by Safaricom. Airtel has since been battling to win over this market share, a situation that has seen it result to cost-cutting measures like laying off employees in a bid to remain afloat.
The banking sector has not been spared either. Last year in November, Equity Bank sent home 400 employees citing natural attrition. The bank has also frozen staff recruitment due to the adoption of a technological shift in the financial services industry.
The Federation of Kenya Employers (FKE) CEO, Jacqueline Mugo, says that the decision to lay off staff is arrived at by most companies as a last resort when staff costs have to be rationalised.
"Some companies have to scale down operations or do away with some non-core functions or roles. It is a business decision aimed at rationalising fixed costs and it has a direct co-relation to a company's performance," She said.
She added that, "Companies are struggling to stay afloat and competitive. The future is somewhat unclear and challenges are increasing even at global level with Brexit, possible shift in relations between world powers like the US, UK and Russia The future seems uncertain."
Meanwhile, for 52 years, the National Youth Service (NYS) has churned out technical skills but the absorption of the same in the job market is disproportionate. Until 2013, the NYS absorbed 4,200 recruits every year, but the number has since been increased to 21,870 recruits in 2016. President Uhuru Kenyatta has since ordered the number be increased to 30,000.
However, against the backdrop of unending mass sackings and thinning job opportunities, the horizons are not so promising. The establishment of NYS was a state strategy to mitigate the hopelessness of illiterate youth population that needed guidance and skills training.
However, educated youth are now competing for the same slots to build up skills to compete in the job market.