What is the right age to get married? How do you know he or she is the one? What habits can you establish in the early phase of your marriage to ensure that the foundation remains rock solid? This festive season as we look back reflectively on 2016, we spoke to four young married women who share with us their journey to the altar, what they are doing to cultivate a successful marriage and what advice they'd give others who intend to get married in the coming year.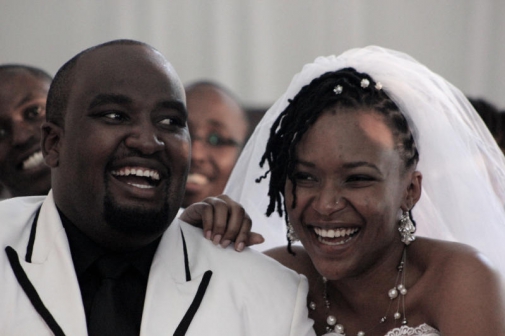 Marion & Mwangi
Age: Marion 27, and T 29
Careers: Marion: Senior Manager, Youth Segment (BLAZE) Safaricom, Mwangi 'T' Muthui: Head of Department, Youth Ministry – Nairobi Baptist Church
Married for 4 years
Marion and T first met when they were young teenagers. "We met back in high school, when I was 12 and he was 13. Back then he was so shy he barely spoke a word to me, though at the time I thought he was cute. Years later we met again at a mutual friend's birthday party and after meeting a couple more times after that, we started dating," says Marion. She also expresses her excitement that she and T recently celebrated their 4th anniversary. "I know there are people who've done over 50 years of marriage, but right now, I'm just excited to see our married years piling up!"
It only took them three years of dating before they realized that they wanted to get married. "After a period of dating your level of closeness and intimacy advances, yet because of our faith there were values we wanted to maintain as a couple. Besides those important reasons, there was no real reason for us to wait any longer; we were both earning enough to survive, we were both of age and we loved each other and wanted to be together for the rest of our lives."
Even though they were old enough to make a life-long commitment, their parents were initially unsure that they were making the right decision. "We were told we were too young and that we didn't know what marriage was about. For the one year that we were engaged we spent time trying to convince our families that we knew what we were doing," she shares. Eventually both sides of the family got on board and supported them while they planned their wedding.
After four years, Marion and T are keen to start family traditions of their own, traditions that they didn't necessarily grow up with. "When I was growing up money was never a topic that was up for discussion. T and I would like to be more deliberate about that with our children in the future. For example we'd like to share with them what our budget is for the holidays so that planning is done together and with clear expectations. One of the things we do now is we take an annual trip to strategically plan for the year; we think through our careers, family, finances, school, God, church, the full nine yards. It's definitely not as exciting as lying on the beach sipping lemonade but we feel it's necessary and helps us to focus on what really matters. We've also maintained date nights once a week, just the two of us."
For those who intend to get married in the coming year Marion, who believes that marriage is truly a gift from God, encourages them to marry even if they are considered young by others. "If you meet the right person and you share the same values and principles, if they're mature and can understand what marriage is, then marry. Marry young if you can while you're still willing to be molded to learn and grow."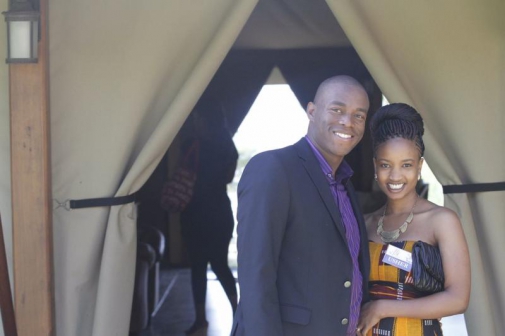 Tasha and Haig
Age: She in her 20s, he in his early 30s
Careers: Tasha is a student, Haig is a photographer
Married for 5 years
She describes her husband as being intelligent, well read, handsome and easy to get along with. She describes herself as a joker, an introvert and someone who has awkward social interactions. While in high school she was the one who made the first move. "It wasn't that I wanted to flirt with him, but I would say hello once in a while. Back then I was on a student budget so I would flash him on his phone and he would always call back, we'd talk for so long, we hardly ever noticed that we'd been talking for an hour," says Tasha. Years later after high school they met over coffee and what started off as two friends having great conversation gradually became romantic. "To this day we are still best of friends."
Haig and Tasha dated for four years, and have been married for five. Their parents weren't surprised when they spoke of getting married despite being in their twenties. "I think they saw it coming as we had introduced each other to family members and they saw our relationship progress over the years. We thank God for our families that where very supportive and prayed for us throughout the whole journey and even to this day."
So far, Tasha has found contentment in her young marriage and says that she and her husband have grown closer to each other. "We have accepted each other for who we are with all our flaws. Someone once told me, the point where you stop trying to change each other is the point where one begins to enjoy marriage. Now we can almost finish each other's sentences and we even know how the other will react in different situations." She also highlights the importance of communication in marriage at all times. "Do not sweep things under the rug but work on them as they happen."
Tasha does not take credit for the success of her marriage and she gives God first place in her life as well as in her marriage. "I have found that when I have lost focus in my personal walk with God, I start demanding too much from my husband, and then I remember that at the end of the day only God can be my everything. I constantly pray that God may reveal to me how to love my husband as he would like to be loved, not how I would assume he does. We all have different languages of love and I try to appeal to his, always keeping his needs first. I also respect him as the head of the home and strive to show him that I do."
For those planning to say 'I do' in the coming year Tasha is careful to remind couples that no marriage is the same and each couple should strive to build theirs on their own terms adding that marriage is beautiful when it is done in Christ.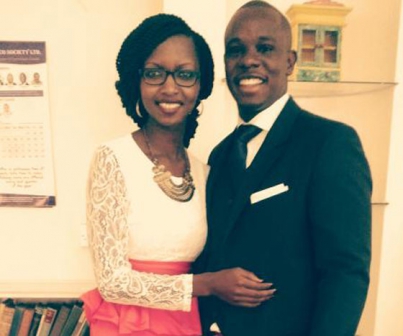 Faith & Charles
Age: Faith 24, Charles 27
Career: Faith: Studied International Relations, Masters in Project Management
Charles: Studied B.com and is currently doing his Masters in Biblical Studies
Married for 2 years
When Faith and her husband decided to get married at the ages of 22 and 25 respectively, her father's initial reaction was one of complete resistance and he asked them to wait. She is the last born in her family, not to mention a self-confessed daddy's girl, so his reaction did not come as a complete surprise to her. At the time she was doing her Masters. "We were considered young in all aspects, young in age and young in our careers. But eventually our parents came around, they had a complete change of heart; they supported and loved on us in more ways than we can imagine or thank them for," says Faith.
Faith and Charles met when they were both below the age of 10 years old. Life ran its natural course, they reconnected when they met at a church where they both fellowshipped. They were great friends and in the three years they were dating, they got to know each other better. Later on, they both willfully made the decision to make a life-long commitment to each other. "One day a friend of mine asked me if I could live with Charles, with all that he was and all that he came with for the rest of my life. In that moment, my answer was yes," says Faith. It also helped that they shared the same beliefs and values and that of course, they were both attracted to each other; above all else Faith says they were great friends who had a deep desire to seek God.
They are now 2 years in their marriage and still dwelling in the bliss that is holy matrimony. "When we got married we were told that the first year would be the hardest; we spent the first couple of months asking each other, 'is it hard for you yet?'" However, they are quick to acknowledge that they are far from perfect and that they make a concerted effort to make their marriage work. "We disagree, we argue and sometimes we hurt each other, but we work on ourselves and our marriage, we try and live by Philippians 2:3-4, always making an effort to consider the other person first," she says.
Though their marriage is fairly new, they are nurturing positive habits to strengthen their union such as studying the Bible together, having frequent game nights as well as dining together at home. "I would also love for us to have a monthly thanksgiving dinner as a family to just thank God for the month that has past," says Faith. "It's easy to look to where we want to go and forget to be grateful to God for where we've come from, who He has been and what He has done."
To those who intend to get married next year, the couple advises that they should discuss their expectations. "This is very important because what one will term as a surprise the other may term as obvious. It is also important for couples to pray for themselves and for each other," Faith concludes.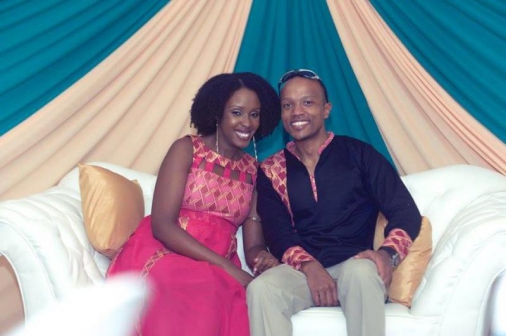 Lyn & Gerry
Age: Lyn 27, Gerry 35
Career: Lyn: PR and Communication, Gerry: Security Trader
Married for 6 months
Most women might have an ideal age when they would like to get married and for Lyn, that age was 25. But when she turned 25, the desire to get married wasn't as urgent as she expected it to be, even though by this time she had been dating Gerry for four years. Little did Lyn know that Gerry was ready to tie the knot and he proposed, much to her surprise. "It came as a total shock to me! It seems God kept the desire of my heart and made it happen," she says.
The newlyweds who got married just six months ago say that so far nothing monumental has changed in their relationship save for the fact that Lyn has now had to adjust to having her own home. Some habits they hope to nurture are having dinner at the table as a family, opening their home to others and entertaining guests. "Some friends have been shy to visit us because they felt we needed time to ourselves. When we found this out, we just laughed at them and let them know we were not that kind of couple. So they visit every now and then," she says.
Another false perception that they heard about married couples, particularly for the woman, was concerning her husband's laundry. "I was told that I should start getting used to washing his clothes because men prefer that their clothes are washed by their wives, we've never laughed so hard! Gerry did not have such inclinations, and still does not," she says amused.
It is evident that Lyn and Gerry are keen to make their own rules in their marriage and advise other couples to do the same. "There are no prescribed rules that married couples must follow, you simply decide how you both would like to go about things and do so. Neither the wife nor the husband should pressure the other to do or become something that they are not. This was a liberating discovery for us, and definitely a change of perspective on marriage," Lyn says.
One of the ways they intend to nurture their relationship is by deliberately making time to bond with each other. "It didn't occur to us that even though we now live together, spending quality time would not be automatic – it has to be planned for. The good thing though is that it's easier to make it happen now than it was before marriage, since our social calendars are synced," says Lyn. "We plan to keep our marriage fun and light-hearted. It's awesome being married to Gerry and there's nothing we would have done differently."