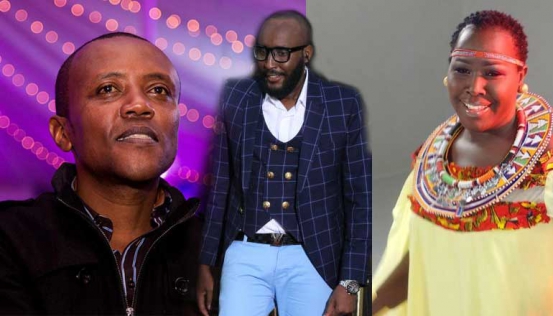 It is that time of the year when GEOFFREY KORIO consults his crystal ball to predict what is likely to happen in the coming year; just like the previous years, a good number of this gems have been known to come through
Wanjiku returns to Churchill Live
The world of comedy has been particularly cruel to Teacher Wanjiku, after her debut show was cancelled. However, the determined comedienne has promised to be back after taking a year-long hiatus. To start things off, she will have appearances at Churchill Live as she gets back on her feet.
Closure of nightclubs
Across the country, the nightlife scene been a busy with opening and grand re-launches of new clubs attended by top celebrities. However, as is the reality on the ground, sustaining a business is no walk in the park, and some will realise this the hard way.
Several joints namely Space Lounge, B-Club and Kiza are already contemplating closure following pressure from 'external forces'. Other joints will be acquired, or err, rather undergo a hostile takeover.
Kaytrixx, Cannibal to lose elections
It's a dirty game, this politics, and as much as we want change of leadership and different leaders such as the two of you, this will not happen anytime soon. On separate occasions, Kaytrixx and Kichwa Kibov singer Cannibal, declared running for Member of County Assembly Mikindani Ward and Mtopanga ward respectively.
However, there are other political aspirants who also want to clinch seats and they will do anything within their means to make sure they win them. This is the sad harsh truth.
Sauti Sol members on solo projects
All good things must come to an end, no? The pressure to go solo is slowly creeping up on the members of this multi-award winning all-boy group and sooner rather than later, this pressure, or rather individual egos, will get the better of them. They will try to keep this issue under the wraps but to no avail and one of the things that will cement this disbandment will be an all-out fight during a stage performance.
The Kleptomaniax are back!
This will be one of the best headlines next year. I mean, barring the tough economic times, corrupt politicians, rampant looting and global warming, doesn't it make you happy in the inside knowing that this trio will re-unite even if it's for one track?
Emmy and Avril Welcome Their Bundle of Joy
This is the third time we are predicting this. Hope third time is the charm. Some of the songbirds are preparing to welcome their own this year (that's you Marya and congratulations on this). So, Avril and Emmy... over to you.
Vera, Huddah permanently relocate
These globetrotting socialites have a busy year travelling and enjoying themselves in almost all corners of the world. That's why it's going to be difficult for them to stay at home. It is not like we are going to miss them, but they've kept us talking. On matters location, Vera looks like she already has a soft spot for Dubai while Huddah, looks to settle down in a tropical island- somewhere like Ibiza. And when the money runs out, you are very much welcome back.
Shaffie quits radio
The self-proclaimed party animal and radio presenter 'Raverend' Shaffie Weru will call it quits in the media world. This will be brought about by his showbiz firm becoming more successful and needing him to be on the ground more often, thus, making it difficult to balance both his media career and his company.
Caroline Mutoko, Angela back on air
This will be a ripple effect from Shaffie's resignation. The radio queen herself will be coerced, err, persuaded, to go back on air and fill in Shaffie's place or rather in this case, resume where she left off. As for the embattled Angela Angwenyi, she too will find her way back on air- chances are either Hot 96 or Homeboyz Radio will offer her a deal.
DJ Dii and Bernard Kioko go public
The sexy Khadija or as she prefers, Deejay Dii has had a successful year; from headlining the star studded Best Western pool party to performing at top joints, everything is going her way. She is also attracting the attention many suitors including the millionaire Bernard Kioko of Bernsoft. Partygoers have time and time again heard Dii call him 'bae' and what have you, he escorts her to all the gigs in his silver Range Rover. It is also rumoured that he has bought, yes bought, her a house in South B. Theirs might be the fairy-tale of 2017.
Willy Paul starts own record label
Every year seems to be tougher and more controversial for Willy Paul. Hopefully, the trend won't repeat itself this year as the Fanya singer will strategise to set up his own record shop. This will be triggered by the difficulty in which he has found when working with producers and composers. The jury is still out on whether he will want to sign hot property Bahati as the face of the company.
Maina Kageni weds
After many times of being 'pressured' on air by his callers and his co-presenter, next year will certainly be the year for this controversial radio host. This will be a surprise to many and a tightly guarded affair; what with all the groupies getting wind of this news and deciding to invade the event!
His best man would be Chameleone (no guessing there). The venue will be a simple but a quaint place. All in all, it will be a successful nuptial.