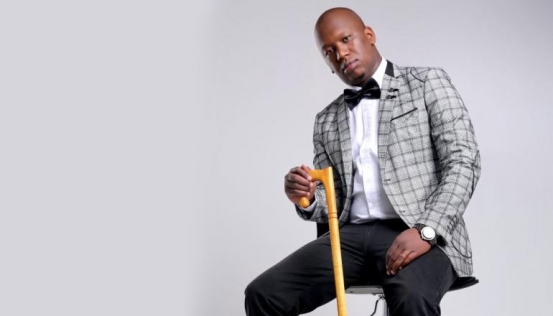 The circumstances under which producer and musician Visita left Grandpa Records have been mysterious, with both Visita and the label's director Refigah remaining tight-lipped - until now. YOUNG MUNYUTHE reports
"I did not want to talk about the matter until he rushed to social media. I have family, friends, corporate clients and even young people who look up to me. Every time I would get phone calls regarding utterances he had made and interviews he had granted talking ill of Grandpa Records.
When you keep quiet for too long, there is pressure because people start wondering whether there is truth in some of those utterances," Refigah explains as he shows me an email dated 13 September, sent to Visita, about termination of his services.
Refigah says he could no longer stand the bad-mouthing, wondering how Visita survived for the 3 years he was with Grandpa as producer and artiste if he was being "oppressed" as he claimed. He took legal action and had his lawyer write the producer a demand letter for money owed to the label as well as another one warning him against defamatory statements.
"I have taxi receipts over a span of two years to Ngong' town (his place), which we have been paying to save his image (instead of using ). I also have other receipts and mobile money transfer records and statements as evidence. Which employer pays rent and transport for their employees?" he adds.
He further alludes to a video that shows the producer insulting former Grandpa Record artistes, explaining that at the time they had gone to Nakuru for their talent search. At that point, things were cosy between them and matters only changed after the September 13 email.
According to him, it all started when artistes would call him about their unfinished songs. This was followed by letters from the estate committee, complaining about the smell of "strange smokables" coming from the backyard of the label's compound, where Visita liked hanging out with his boys.
"I had meetings with him about it because it is the kind of conduct that would affect the reputation of the label. It is very sad it had to end this way," he reveals.
The picture that emerges as the conversation goes on is that of a gifted but ill-disciplined person who relied on constant bailouts by the label.
"He is a very talented producer and I respect him for that. He is someone I would have liked to go places with, but he is shifty and unprincipled," the creative director of Grandpa charges, even going as far as alluding to previous transactions Visita allegedly had with one of the major parties during the last elections where he is rumoured to have landed a fortune, only to blow it. "He is not even a member of MCSCK, PRiSK or KAMP, yet he complains about money," Refigah says.
Several artistes have left the label in the last couple of years and Visita's departure seemed to fuel an unfavourable impression, but Refigah explains that, bar Visita, the partings have been through mutual understanding.
"The media speculated a lot when DNA left but it was a gentleman's agreement. He is a businessman with other interests, his contract with us lapsed and I have never heard him complaining about Grandpa Records," he says and adds that it was the same with Kenrazy, whose contract ended on January 1, 2016.
"It is not the artistes who leave, the contracts lapse and everything is done through mutual agreement," he says and insists that no artiste has ever left the stable.
A month since the seven-day notice was issued, the producer is yet to respond although he has not put up any post regarding the record label.
With the exit of probably one of the most prominent producers, what is the way forward, and does he think the emergence of other labels such as Pacho is a threat?
"There will never be a comparison. When we meet, we say 'hi' and there has never been an exchange between us and any other label, be it Pacho, Mainswitch or Ulopa. Ours is a big brand and we did not make it to where we are through beef; it's sheer hard work. The (music) industry is like politics; everyone does everything to get mileage and that comes with mudslinging," he says.
As for Visita's replacement, they have already received many demos from talented producers with plans in place to put up a second studio so that they can be operating for 24 hours. "We want to have 6 producers, three for each studio. Also, we will be putting up another studio in Rwanda, hopefully by March next year," he reveals.