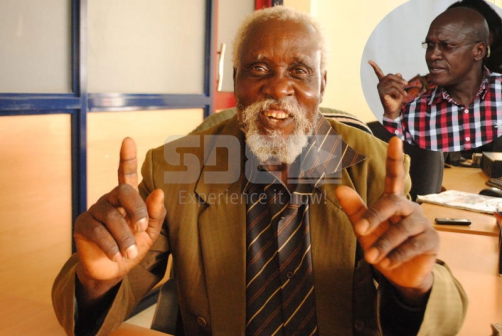 Luhya council of elders are unhappy with Kakamega Senator Boni Khalwale. Batsotso Council of Elders through Mzee James Amunze who is in charge of culture in the council claim that the senator, "Risks going into political oblivion for disrespecting them."
The lawmaker was slapped with a heavy fine after he gate-crashed a cultural festival at Ematiha primary school in Navakholo and attacked Deputy President William Ruto who was in attendance. The event was held in January this year.
"He must produce an unblemished black sheep and a red Cock for cleansing rituals so that he can be forgiven for disrespecting us," the elder said adding that, Dr Khalwale must restrain himself from openly attacking the DP and hurling insults left, right and centre.
"To make it worse, he caused a scuffle near River Sasala Bridge, a clear indication that he did not have respect for the elders and our leaders," Amunze said.
Khalwale is said to have openly clashed with Ruto and Jubilee-friendly legislators from Western Kenya who were present.
"I want to tell you that people from Western will not join Jubilee and those leaders who have been given handouts to sell Jubilee party here should eat the money in silence," Dr Khalwale told the DP.
The elders claim that endless political problems that have befallen Khalwale resulted from the incident. According to Mzee Amunze, Khalwale can run but he will not hide from culture. "He must do exactly as we want or else, the elders curse him forever."
In fact, the elders says the curse will make it impossible for Khalwale to win any elective post including the Kakamega Gubernatorial seat.
"There is little we can do to guarantee him a straight win even if he had to produce what is required of him because it took him too long to respond," said Mzee Amunze.
But Khalwale will not listen to the elders 'nonsense 'and has been busy campaigning to unseat Governor Wycliffe Oparanya in 2017.
The elders have denied claims that their hard stand against Khalwale was motivated by the Sh1.3 million donated to the council by Ruto to help them purchase land for putting up a shrine, a move that did not go down well with the senator.
Khalwale donated eight acres of land for the same course and wondered why elders accepted a contribution from Ruto who according to him is a stranger to the Batsotso clan.
The council responded by banning Khalwale from stepping in the clans territory until he pays the fine and asks for forgiveness.
"What he did is an abomination to our clan beliefs and the sheep and cockerel will be used in cleansing rituals before he (Khalwale) can be free again to visit the clan," said Mzee Amunze.