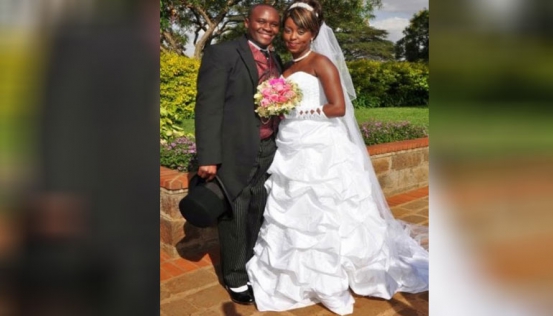 Sexy television anchor, Lilian Muli, filed for divorce. This should now settle rumours which have swirled around her marital status like a live broadcast without a sound.
The Citizen TV senior prime time anchor, whose easy-on-the-ear voice glues audiences by the millions in living rooms, married Moses Njuguna Kanene in a highly publicised pink and white themed society wedding in September 2009. Highlights of the ceremony included a white vintage bridal car that was followed by a convoy comprising six E-class Mercedes Benz cars to the Windsor Golf and Country Club in Ridgeways.
The Nairobian can exclusively reveal that Lilian filed for divorce at the Chief Magistrate's Court at Milimani in Nairobi, on January 7, 2016, citing "adultery, cruelty and desertion" as reasons for calling it quits.
In divorce case No 19 of 2016, Lilian claims that her husband is adulterous, having cheated on her with several women before deserting her. She also claims that Kanene is a man of unpredictable moods, ungovernable temper and violent in nature, thus making her life in the marriage one that is shrouded in fear.
In her affidavit signed in Kiambu County, the 34-year-old Lilian prays to the court that "the said marriage with the respondent be hereby dissolved" and the cost of the petition paid by the respondent (Kanene).
The couple has a six-year-old son. In her petition, Lilian says, "That on 11 September 2009, the petitioner Lilian Muli then a spinster was lawfully married to Moses Njuguna Kanene, then a bachelor under the marriage act, which marriage was solemnised at Windsor Gold Course in Kiambu until sometime in the year 2015, when the respondent deserted the matrimonial home and she went to live with her son separately."
Lilian says in her petition that she and her husband had a troubled and turbulent marriage, in which her husband on numerous occasions, treated her with utmost cruelty and deserted her to live with an unknown woman or women in Kiambu County. "To compound the said cruelty, the respondent deserted the matrimonial home, and has been leading an adulterous life and committing adultery with various women and the marriage has irretrievably broken down."
Lilian further claims that Kanene was a person of unpredictable moods, ungovernable temper and violent in nature since "the respondent had generally been cruel, abusive, rebellious and unwilling to recognise the petitioner as his wife and shunned all efforts by the petitioner to persuade him to live a normal family life."
She also claims that her husband has on several occasions threatened her with unspecified consequences. She adds that her husband failed to take care of her by refusing to take responsibility as a husband and a father.
She further states that she has in no way been an accessory to the three vices that plagued her marriage: adultery, cruelty and desertion.