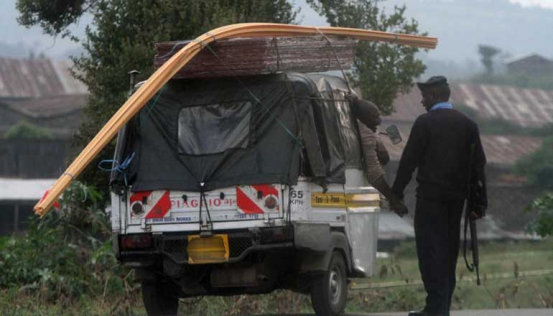 There are several spots in all the major roads entering Kiambu town which is just a few kilometres from Nairobi.These spots are known by motorists to be the most notorious as the traffic officers cling like a tropical tick until they "remove something small".
If claims by the Kiambu matatu Sacco are to be believed, officers manning the busy roads collect about Sh300,000 daily, with each vehicle required to pay Sh100 at the road block.
Kiambu Road has a spot is known as 'kwa Ngethe' on your way to Thindigua where one finds four police officers manning the road. According to *Francis a matatu driver for Inagi Sacco, "Here, one has to bribe the officers with Sh100 or find himself in a police cell where he will be released after parting with Sh5000. The second stop is at Muthaiga where you find another group of officers waiting before you reach Riverside where the "fines" are highest (up to Sh10,000) if you break the law".
On Githiga road heading to Limuru, motorists complain that they they are forced to bribe officers more than four times before getting to Limuru town.The officers are deployed in Kiambu town near Nova park,Karuri and Limuru
*Mr.Mutembei an official and one of the directors of Githiga Matatu Sacco reveals that a public service vehicle loses between Sh2,000 and 5,000 in bribes to traffic officers a day.
"We are forced to bribe the officers because if you refuse they brand you their enemy and there is no way you are going to survive on this road unless you quit your job. I have been in this business for a number of years. A traffic cop will arrest you for no offense and fabricate charges if you bring kichwa ngumu and refuse to bribe," Mutembei told this writer.
But it is the Kiambu-Githunguri road that is feared most by matatu crews. According to Boustamante Kigondu, a conductor with Inagi Sacco, the officers manning this road are bullies and bribing them with Sh100 is a must.