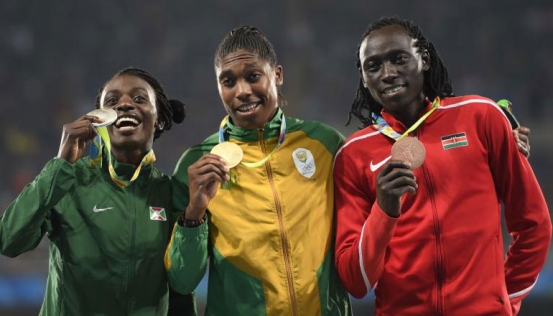 In the aftermath of the Rio Olympics, people are still questioning the superior abilities of the women who took gold, silver and bronze in the 800m.
In the Rio Olympics, the first three spots in the women's 800 metres race were taken by Africans.
Caster Semenya of South Africa took the gold medal, Francine Nyonsaba of Burundi got the silver and Margaret Wambui Nyairera of Kenya settled for the bronze. Away from their race, or continent of origin, the three women had more in common than just sharing the podium.
They have drawn attention from all corners of the world because of their masculine phenotypes, and their fellow competitors who are of Caucasian origin, were not happy athletes. Lindsey Sharp, a Scottish athlete in Team Great Britain who finished sixth, told BBC in a tearful interview, that it was "difficult" to race against Semenya, who has been found to have a congenital condition termed hyperandrogenism, and women with hyperandrogenism have higher levels of testosterone than is normal, and are almost "men."
"They tend to have man-like physical features. And since testosterone is known to add strength, they also have higher physical abilities," Dr John Ong'ech, an obstetrician and gynecologist, told Sunday. Semenya was subjected to gender tests in 2009 after a streak of exemplary performances that culminated in her winning the women's 800m race at the 12th IAAF World Championships in Athletics in Berlin, Germany.
"She is a woman, but maybe not 100 per cent," commented Pierre Weiss, the general secretary of the Inter- 28 August 2016 national Association of Athletics Federations.
The South African, who was raised as a woman, has a celebratory ritual of flexing her biceps. In such instances, her physique — near-flat chest, the structure of her facial bones, her Popeye-esque arms and bull-bar legs — is put under spotlight.
Nyairera has similar physical features, but unlike Semenya, she has not been identified as hyperandrogenic. She is only suspected of being hyperandrogenic because of their physical strength. In Endarasha, Nyandarua, where Nyairera comes from, she is just a girl who used to perform spectacularly well in field athletics at Endarasha Primary.
 After the Rio race Nyairera, Kenya's reigning 800m champion, told the press: "Having graduated from the juniors and now running against seniors and still able to win bronze at the Olympics is a big achievement for me.
 The race was tough but I will go back home with my head held high." Holding her head high is what she had to do even before leaving Rio de Janeiro. Olympics medalists are obliged to sit through press conferences, and the three winners had to field questions about their suitability to participate in women's races. People wanted to know whether they have hyperandrogenism and if they had been asked to undergo hormone treatment in order to suppress their testosterone levels.
According to British publication, The Guardian, the three Africans consulted briefly with each other then refused to answer. "Let's focus first of all on the performance today; let's not focus on any medication," Nyairera said. In the 60s, gender-testing was superficially done by examining the naked body of an athlete. Science has since advanced, and eliminated the need for a naked parade.
 Currently, while anatomy is also considered, physiology, chromosomal makeup and genetic composition are used to determine whether an athlete is scientifically male or female. Semenya's case forced IAAF to institute policies that define female athletes as those whose testosterone levels are at most 10 nanomoles per litre. Thus, Semenya could not be allowed to compete without treatment to suppress her naturally high testosterone levels