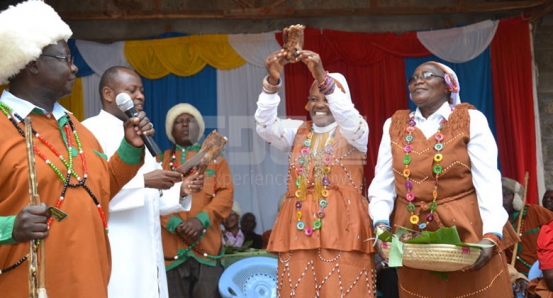 Pomp and colour marked a ceremony akin to a Kikuyu traditional wedding as a Catholic nun in Nyeri County decided to 'tie the knot' with the church.
Sister Rose Catherine Wambui donned traditional regalia symbolising her final step towards dedicating her life to the church in a ceremony conducted by Kikuyu elders with Fr Boniface Murage Warui, the priest in charge of Gitutu Catholic Parish, taking the position of the husband. 
 Wambui, an alumnus of Catholic University and member of the Assumption Sisters, was celebrating 25 years since becoming a nun at 26. Wambui noted that though she had the option of getting a husband and raising a family, she chose to work for the church and serve people without limitations.
"In normal tradition weddings, it is between a man and a woman. The priest is therefore acting as the man, but on behalf of the Church because Wambui is getting married to the Church. There is nothing wrong with that. She is taking her last vows to remain dedicated and committed to the Church the same way a married woman would have taken vows to live with her husband," Peter Njogu, an elder, explained.
To cap it all, a goat was slaughtered and the meat used by Sister Wambui to take her vows in the Gutinia Kiande (cutting the shoulder), the final ceremony in the tradition Kikuyu marriage.
The priest was asked by the elders to cut the goat's right leg at the joint (gutinia kiande), an indication that Sister Wambui will forever remain in the Church where Fr Warui would forever accommodate her.
To demonstrate her true love for the Church, Sister Wambui was asked to comb the priest's hair, brush his shoes and feed him porridge.
Njogu noted that among the pieces of meat used was ear, liver, kidney, intestines, ribs and the right front leg which were used by the Sister to take the vows.
"The ear indicated that the Sister will always be listening to the Church, intestines indicating she will never let them starve, ribs a sign of protection and liver, a show of real love," Njogu explained.
Other pieces of meat were shared out among her family and the congregation.
During the event, ululations (ngemi) rented the air and since the Agikuyu have nine clans, there are four ululations for girls and five for boys adding up to nine. Sister Wambui received hers as did Fr Warui.The ceremony started with traditional prayers and procession with attendees facing Mt Kenya with their hands up. The Agikuyu, the community where Sister Wambui comes from, believed their God resided in Mt Kenya.
Elderly men led the procession, with elderly women carrying gourds containing porridge inside ciondos (baskets). Muratina, Kikuyu traditional brew, was used by the elders to bless the 'couple.' The event that was attended by among others; Tetu MP Ndung'u Gethenji, Nyeri Senator Mutahi Kagwe and prominent businessman Dr Thuo Mathenge.