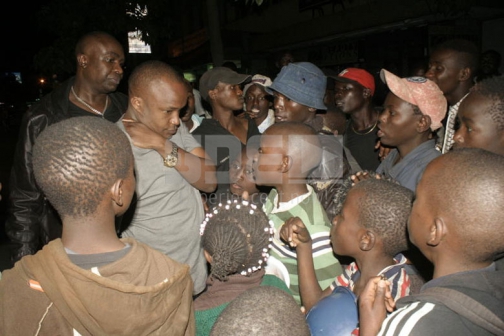 Junior is 17 years old. He has been living on and off the streets of Westlands for the last ten years, eking out a living on the plush streets of Westlands, where inebriated revellers part with generous amounts of money or leftovers of sophisticated foods.
Junior became addicted to street life because he was making as much as the housegirls in Westlands. But one thing that he did not contend with was that he would grow up and lose the childhood innocence and charm that made people easily part with money.
The older he grew, the scarcer the money became leading to frustration and possible foray into petty crime.
But as Junior hurtles dangerously towards full time crime, a script well followed by those before him, one wonders what would make a child prefer street life to a structured system at home or school. First, there is freedom of movement and a fairly loose code of conduct in the streets: you sleep when and where you want, eat at your convenience (when you get food). Secondly there is the monetary side where, like a business, money comes in daily.
During club days, especially Fridays and Saturdays, the stakes are high and on average, a street boy or girl can make as much as Sh1,000 per night. Thirdly, there is the comradeship where they hang around each other waiting for the next phase of their lives to kick in.
But below the veneer of a dirty street person is a well calculated and thriving drug and alcohol business where the street people are used as mules to transport the drugs and alcohol from one point to another for as little as Sh50 per trip. Worse are the peddlers who sell drugs to the street people on credit to permanently keep them hooked and in debt, leading to a vicious cycle of petty thieving to sustain the habit. It becomes harder to break out of this rut.
Junior is one of the 250,000 street families in Kenya and 60,000 in Nairobi — according to United Nations statistics. Whereas street boys and girls have always been part of the society though mainly around slums, the explosion of street families in Kenya happened from 1992 as a result of highly politicised land clashes starting off initially in Rift Valley province. From then on, every election year has seen the number of street children and families increase exponentially.
Given that the central and county governments are looking the other way, religious organisations can do more other than the well-choreographed one offs every Christmas that leave the street families hunkering for more. For example, the Westlands / Parklands region has 20 religious centres, none of which have a structured programme for street families, yet each has the capacity to take in 25 street families and turn their lives around.
As a society we can do more than pay lip service to this time bomb. Public schools can introduce evening classes and vocational training for street children and also double up as feeding centres where those willing to donate food and clothing can do so. Many corporates have a Make A Difference Day (MADD) where their employees engage in mentorship programmes for the underprivileged.  Private, local and international schools can partner or adopt slum schools and initiate feeding programmes to enable many poor kids to remain in school and keep off the streets.
Finally, for those like Junior who find themselves in a no man's zone, middle level colleges, garages, bakeries and so on can also chip in to impart vocational skills. It is a herculean task but, we have to start somewhere.
Clifford Chianga Oluoch is a teacher, trainer, author, playwright and director, Homeless Of Nairobi. Facebook; Clifford Chianga Oluoch | Twitter; @OluochCliff; Skype ID: OluochCliff