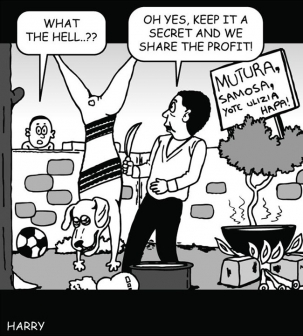 Residents of Soweto slum in Nairobi's Kayole estate are still reeling in shock after a butcher in the area confirmed their worst fears. The butcher, only identified as Ndung'u, left tongues wagging when he confessed that he uses any kind of meat he comes across to prepare samosas, and the traditional Kenyan sausage - commonly known as mutura - among other meaty delicacies, at his eatery.
To Ndung'u, anything goes. From dead marabou stork to frogs from a nearby swamp and any other animals killed by speeding vehicles on the roads in the area; he confessed, leaving everyone gasping.
A young boy blew up the butcher's cover when he stumbled upon Ndung'u dressing a dead dog's flesh behind his house.
"The boy had hurriedly jumped into the butcher's backyard to collect a football that had strayed out of the field of play, when he chanced upon him skinning a dog and cutting it into pieces," said a resident.
The boy raised alarm and within a short time, curious locals had assembled at the butcher's house, demanding he explains the existence of the dead dog he was cutting into pieces and the source of other meat he uses in making delicacies at his eatery.
At their wits' ends, the impatient residents, some of whom are regular patrons at the butcher's eatery, roughed him up into a confession.
Blaming the tough economic times, the butcher owned up to his mischief, saying: "The price of beef and other innards such as intestines cost an arm and a leg. I can hardly afford, yet I have to survive and make an 'honest' living in this city, you know." He further dropped the bombshell when he said: "I, at times, use dead animals collected from the road to make delicacies at the eatery".
He said the first time he used dog meat to make samosa, nobody complained about the taste. Instead, he said, people surprisingly compliment him, saying his samosas were not only different, but also very tasty that day. The remorseful butcher said after he discovered that indeed dog meat was not only edible but also tasty, he has never looked back.
When asked about the source of dog and frog meats, he told the crowd about his suppliers who collect roadkill and sell them to him cheaply.
Pleading with charged locals not to clobber him, an elderly resident tickled the crowd when he encouraged them to expand their dietary options by accustoming themselves with eating dog and frog meat.
"These meats are not any different from beef, mutton or even donkey meat we unknowingly eat in this city. Again, if dog meat had been that bad, then even the Chinese who are famed for eating it could have been affected or died long ago," he joked.
By the time the scandal was coming to an end, the locals had mixed reactions. Majority, however, left the scene a disgusted lot, swearing never to eat at the Ndung'u's eatery again. Strangely though, almost a week later, the man is still in business and thriving.