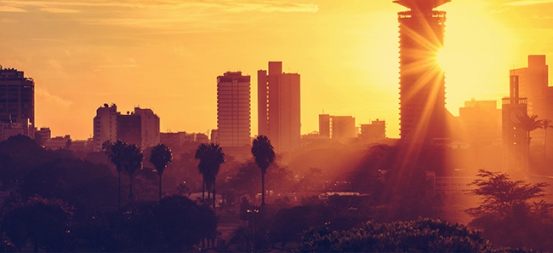 Brethren, close your eyes and imagine a lazy woman who has gluttonous children! Now, that is my perception of Nairobi's so-called middle class folks. These are individuals whose appetite for good things in life is not commensurate with their means. Like bad advice at the local bar, Nairobi is littered with such characters.
In their middle class facade, they spoil their kids with reckless abandon. They spoon-feed and pamper them into spoilt brats by taking them to academies. For the uninitiated, around here, an 'academy' is an expensive 'learning' institution where spoilt brats are taken for intensive drilling, solely to pass exams. No life skills are taught there. Sports and related curricular activities are highly frowned upon. Little wonder then, that, at an academy, the number of obese children is as low as the number of scandals in Kenya. You notice such brats went to proper academies when they graduate with nothing much, but a fake American accent!
From the academies, these types of Nairobians further pamper their fat rascals, who are too kosher to pound the tarmac job-hunting, by nagging or bribing their friends in high places to employ them. I am writing this with one such neighbour of mine on mind. She used to terribly pamper her first born son. Dude, curiously named Boi, was so lazy to even get a girlfriend, marry and sire kids by himself, that his mum had to hook him up with her friend's cousin who already had two children, for him to form a family! The cheek of it! Talk of people who give middle class a bad name.
Class is like underwear, it's necessary and great to have one, but you must not necessarily prove to people that you have it on, you know. Let class ooze off you effortlessly. But anyway, if you are a 'hustler' and desperate to pass off as middle class, I have a perfect guide just for you.
First, compete with neighbours in as far as lifestyles are concerned. When they, for example, do a big wedding, go to for a Sacco loan and do an even humongous one. When they upgrade to a bigger car, take a big bank loan, even if it will take you your entire lifetime to repay, and outdo them. In a nutshell, live beyond your means.
While at it, ensure you take many pictures of your flashy lifestyle and post them on social media. Let people know how good you are doing. If you don't show off your new designer clothes, trendy shoes, gold chains and electronic gadgetry, that's up to you. I mean, it will be useless to live large, if nobody, especially poor sods, notices. Also, when you go to the gym, take pics and share them on social media, otherwise you won't lose weight and build muscles! Also, never pass a chance to show off your spouse and make others look bad.
In whatever you do, please, please please, package yourself as a cool, urbane cat. And to look the part, name drop celebrities and authorities during conversations. You can, for instance, mention in passing how this or that governor is a very good and close family friend of yours. Or, for special effect, brag about the president's missed call that you plan to return when you are less busy. Needless to mention, make a habit of tweeting and instagramming regularly.
Last but not least, never listen to jealous and know-it-all busybodies and alarmists who go round warning that you should live within your means. After all, in a country where the only warning that people take seriously is 'battery low', who are you to start taking caution on your lifestyle with earnest intent?
Related Topics