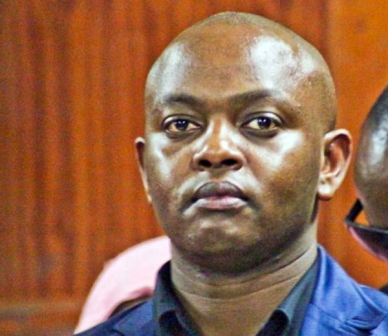 Nothing unusual betrays the humble abode in Karangia village, Nyeri County, the ancestral home of millionaire Ben Gethi , the youthful businessman adversely mentioned in the multi-million National Youth Service (NYS) scandal in which he's accused of receiving Sh585 million fraudulently.
The NYS scandal led to the resignation of Devolution Cabinet Secretary Anne Waiguru last month. The home in Tetu Constituency, where he grew up, comprises ramshackle structures and three wooden houses roofed with corrugated iron sheets whose red colour has seen better days.
That alone proves that this controversial businessman is not related to the former Police Commissioner, the late Ben Gethi, who died in 1994. Described by his peers, teachers and neighbours as humble and quiet, Gethi was born on October 7, 1984 and raised in the village. Gethi's story is one of grass to grace. He struggled to make ends meet before his ascent into the millionaires' club.
In Nyeri town, where he has, of late, become a rare visitor, people milled around to get the attention of the 31-year-old who had become the envy of many. "This is a man with whom we struggled together and when he moved to Nairobi and returned driving big cars, we knew Mungu amemuonekania (God has blessed him)," one youth told The Nairobian in Nyeri Town.
Gethi, the first-born in a family of three, attended Nyamachaki Primary School in Nyeri town where he left in 1998 after scoring 471 out of 700 marks. The following year, he joined the Catholic-sponsored St Mary's Boys' School in Nyeri where he remained until 2002.
The school's principal, Peter Kombe, described him as a disciplined and average student academically, who was very active in extra-curricular activities. "Besides playing for the school basketball and volleyball teams, he supervised the daily work programme and was responsible.
He is well-recommended," partly reads his leaving certificate dated November 30, 2002. Gethi's former Kiswahili teacher, James Kirimi, remembered his erstwhile student as a quiet person who rarely sought attention.
According to people who know him, shortly after completing high school, Gethi worked as a casual labourer with Mount Kenya Bottlers before his mother, Charity Wangui, got him a supplies jobs.
Wangui, a civil servant who has been residing near the Nyeri County Assembly until recently, has already been moved to Kiambu. Sources who spoke in confidence said Wangui raised Gethi single-handedly and established a formidable bond between the two.
"That is probably why his mother features prominently in the properties he allegedly acquired using the NYS money," remarked a Nyeri resident who knows Gethi from childhood. Gethi, a father of one, is said to have left the supplies job after his uncle who works at the Treasury invited him to Nairobi.
It is while in Nairobi that Gethi got acquainted with senior government officials who in turn drew him into the lucrative State procurement deals.
Gethi is out on a Sh3 million cash bail after he, together with other officials from the Devolution ministry, were charged with stealing Sh791 from NYS .
- Dennis Mbae and Mose Sammy
Related Topics