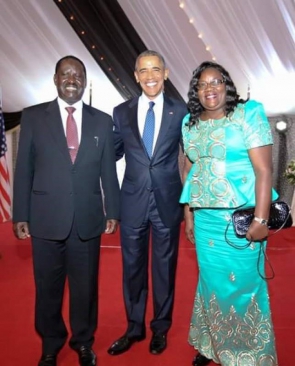 Were Statehouse photographers instructed not to release photos of Ruto and Raila with President Obama during the state house dinner party held on July, 26?
A source who spoke to The Nairobian in confidence says this instruction was overruled by a media officer from Presidential Strategic Communications Unit (PSCU) who released a single photo of each of the politicians a day after Obama had left. Ruto appeared in a photo with his wife and daughter while Raila was photographed with his wife and Obama
Rarieda MP Nicholas Gumbo accused 'power brokers' in Jubilee for trying to isolate the DP and Raila and said it was shameful for the Jubilee government to try and humiliate some leaders during Obama's visit.
"Why state house could refuse to release photos of Raila and Obama shaking hands," he wondered.
ODM director of elections Philip Etale said Jubilee was playing 'childish' politics by refusing to share Raila and Obama photos.
"I am told by those who attended the dinner that Obama and Raila shook hands...for a minute or so. Why are we not seeing that photo? That is childish politics," he said.
But PSCU digital director Dennis Itumbi however denied that photo sessions of Obama and the two leaders took place.
"Yes, we released a single photo of Obama and Raila because the others were of bad quality. I can share with you the photos for a fair judgement, but if they insist, we will share them," said Itumbi.
Asked why only a single photo of Ruto and Obama was released, Itumbi said the two had met in the VIP section where no photographers were allowed.