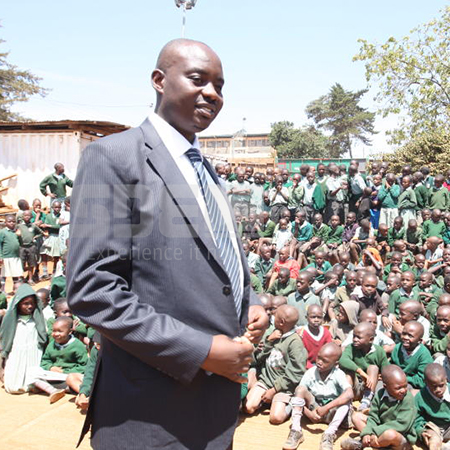 His father named him after the legendary Cuban revolutionary, Castro. But when Fidel came into this world in 1973, the baby who would grow into a towering hunk would never have guessed the demands that come with being an Odinga.
Scion of a family that has defined protest and opposition politics since the 1950s, he seems to have lived in the shadows of his illustrious forbearers; grandson of a Vice President, son of a Prime Minister; Ida's boy, the strong matriarch who held the family together throughout most of the family's troubled history.
Kenya slowly became aware of him at the onset of multiparty politics. But he only raised himself to his full height and became a public figure in his own right when his father Raila became Prime Minister.
His name would pop up in gossip columns, on social and mainstream media more often, depicting him as a businessman and his father's political wingman in Kibera, the sprawling slum that is synonymous with Raila's political career. He was also depicted as a socialite who played hard and loved the fine things in life – choice whiskies, fast cars and beautiful women.
But just who was Fidel? The answer to that question depends on whom you ask. To kin, he was a pillar, the glue that held the family together, a sweet boy who couldn't hurt a fly. To friends, he was a consummate businessman, loyal, the soul of the party.
To the downtrodden, he was a kind man, a philanthropist who reached into his wallet and 'sorted' you without asking too many questions, and without caring from which tribe you hailed.
Still, his adult life was dodged by whispers that he partied too hard, often late into the night; that he lived recklessly, pushed his weight around; that he was simply daddy's boy. Kenyans will, however, never know how it was growing with a father in detention and a mother whose every step was trailed by the Special Branch.
But one thing that cannot be denied is that Fidel was a politician in the making – in the manner he connected with the masses, made friends across the political divide, roused up the crowds in Kisumu and Kibera.
That he would have grown into a politician of note is not in doubt. It is simply the weight you bear when you are an Odinga.
Growing up with Fidel, his cousin Bill Yaya says that he often acted like a cop and could stand at attention when a senior person entered a room where they were.
"With his height and physical stature, Fidel was like a bouncer to us. But at some point he took it way too far especially whenever he was in the presence of his dad. If you look keenly, Fidel liked standing behind his father almost like a bodyguard," Bill explains.
A close friend who sought anonymity described Fidel's growing concern over his father's well-being saying that deep down his heart, Raila's first born was troubled man.
"At some point, he just wanted to be next to his father to provide extra security. I remember at one time when we were headed to Kasarani, Fidel jumped off his car and started running alongside his father's security and escort," narrated the source.
Such concerns were supported by Fidel's youngest sister Winnie Odinga who says his brother did not enjoy father to son relationship with the dad. He treated Raila like his boss.
"They were just very serious and he admired him so much that he could not even relax around him. He would always feel that maybe he was not doing enough. He became very protective of our father and that is why he could be seen at his political rallies because he never even trusted his security enough," said Winnie adding that Fidel wanted to help his father achieve every single dream but at times he felt that maybe the people around him were not doing enough to help.
Related Topics