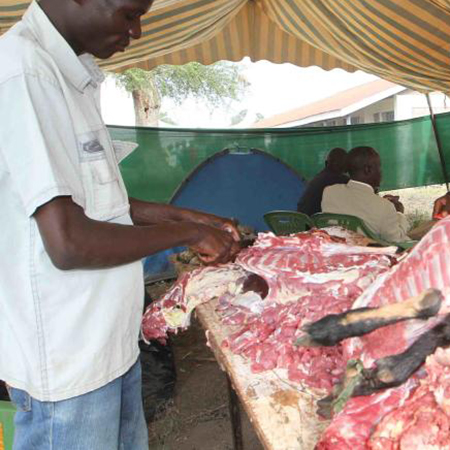 Preparation for Homa Bay senator's burial at Waondo Village, Mbita
Death is big business
According to Waondo Community Burial Committee chaired by Martin Opere, when Homa Bay Senator Otieno Kajwang' died recently, at least 40 bulls and 100 goats and sheep were slaughtered to feed mourners. That's besides 600 hens and tilapia fish worth Sh50,000.
Do the math
A bull costs on average Sh30,000, meaning Sh1.2 million was splashed on beef and Sh300,000 on goat meat. Opere said funeral expenses were shouldered by Kajwang's friends and the Waondo clan.
Politicians in Kenya are accorded outlandish funerals befitting their status.
In 2006, Nyali MP Awiti Bolo's father died and the funeral was estimated to have cost more than Sh15million, reveals a family friend.
"There were trucks, each carrying different brands of sodas. The villagers drank to their fill, then brought jerrycans and filled them with sodas. But there was still more soda left. Milk and bread was in plenty supply and the villagers gorged themselves until they couldn't take any more.
There were ten food courts, all catered by a reputable hotel from Nairobi. It was like feasting on a five-star meal in a village funeral.
When the former internal security minister George Saitoti died, 50 bulls were slaughtered in accordance with Maasai tradition. Bull are slaughtered when a man dies. Cows are reserved for women and children.
In November 2013, Raila Odinga donated 10 bulls for slaughter during the funeral of the late minister Karisa Maitha's father, James Siry, whom Raila said was very close to his father, Jaramogi Oginga Odinga. Siry had also donated food when Jaramogi died.
And it's not only funerals that are expensive affairs, even memorials can be costly.
January this year marked the 20th anniversary of Jaramogi's death, and his eldest son, Oburu Odinga, revealed that the family slaughtered 10 bulls to feed visitors.
Jaramogi died on January 21, 1994 at The Aga Khan Hospital in Kisumu aged 83.
CDF buys hearse for hire
While politicians and their families can afford costly burials and memorials, the not-so-financially-endowed, especially in villages, end up impoverished with showy funerals.
Gatanga MP Humphrey Njuguna said in November last year that lavish feasts and high cost of funeral was to blame for the poverty in Murang'a.
"The funerals have been so commercialised and feeding the multitudes attending burial ceremonies have many families poorer," he said, adding that the area CDF kitty had purchased a hearse and tents to be hired out for Sh3,000.
A 2004 study published in the Journal of Human Development found that 63 per cent of households in Kenya declined into poverty in rural areas and cited heavy funeral costs as a reason for their misery.
In Kiambu, the county reviewed its cemetery rates so that nonresidents pay more to bury their dead in the county due to scarcity of land. Residents of Kiambu will pay Sh8,000 while nonresidents will cough up Sh10,000 plus a Sh30,000 annual grave maintenance fee.
Related Topics