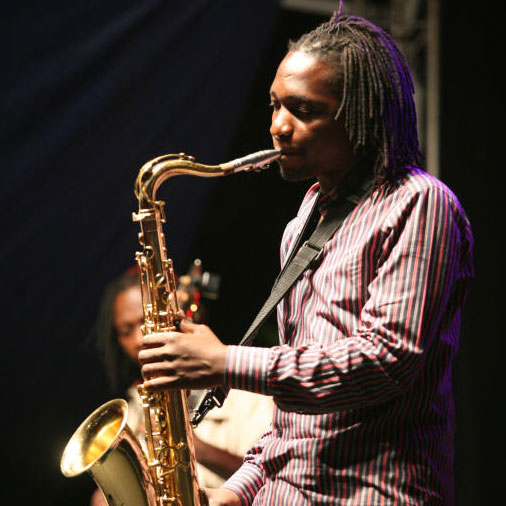 Juma Tutu, set to curtain raise at the December Jazz Festival. PHOTO: EMMANUEL MWENDWA
South Africa-based Nigerian afro-jazz guitarist Kunle Ayo's upbeat and groovy tunes arguably set the pace and tempo for the second edition of the December Jazz Lounge series headliner act – South African jazz guitar virtuoso Jimmy Dludlu.
The latter's musical inclination hinges on an ingrained heritage embedded in the legacy of Afro-jazz legendary front-liners like Letta Mbulu, Jonas Gwangwa, Miriam Makeba, and Hugh Masekela.
But even before Dludlu takes onto the stage to woo an expectant audience, numerous homegrown artistes are set to curtain-raise.
One of the artistes' names being bandied around, awaiting official confirmation and unveiling possibly sometime next week – is saxophonist Juma Abdallah Tutu.
The performing artiste's consistency on the local live concerts scene and his adroit exploits on the tenor saxophone, could likely earn Tutu the coveted curtain-raiser slot.
The previous Safaricom Jazz Lounge series have showcased keyboardist Aaron Rimbui, guitarist Eddy Grey, Kenya's leading jazz vocalist Kavutha Mwanzia-Asiyo and the trendsetting boy-band Sauti Sol.
For an artiste who grew up steeped in music, Tutu's dalliance with the saxophone began as if by default. His parents could not raise school fees and he took up music as a source of income.
He would engage in singing shows on weekends at various entertainment spots to partially pay for his high school education.
Tutu learnt the ropes under the tutelage of a retired navy officer, Nahashon Mganga, in Shimanzi, who used to repair saxophones. Between 1999 and 2000, he was enlisted as a saxophonist by the Generations group, then resident band at the Serena Beach Hotel, Mombasa.
He later joined Bango Sounds band fronted by saxophonist maestro Joseph Ngala, where his mastery developed to an extent he on occasions was called upon to back up the veteran.
TURNING POINT
Tutu's career turning point was in 2001 when Teddy Kalanda of Them Mushrooms decided to hang his boots. Them Mushroom scouts had learnt of Tutu's emerging talent.
The fact that he was born and bred in Mombasa further tilted the scales in his favour. The mantle was officially handed over to him at The Carnivore, when the band also changed their name — albeit for several years— to Uyoga.
Tutu's experience with Uyoga and Bango Sounds bore fruits in 2005, when he participated in the Spotlight on Kenyan Music Competition.
He was backed by his former band Uyoga and easily sailed through to the finals. As a winning finalist, his popular song Sukari was included in the Spotlight on Kenya Music compilation CD album.
The saxophonist is passionate about the irreplaceable value vested in live concerts, noting that during live performances, the artiste is able to engage and interact with audiences who often comprise potential consumers of his or her music.