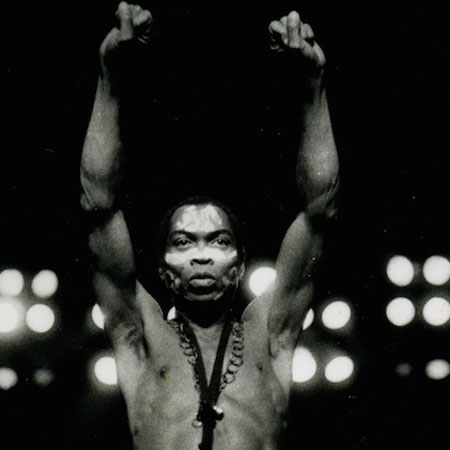 When I met Fela Kuti, the self-styled "Black President", he was in a London hotel wearing only a pair of red underpants, smoking a massive joint, surrounded by three of his wives (he notoriously married 26 in one day) and his personal magician, a Ghanaian who called himself Professor Hindu.
This was in 1984, and was the first interview I ever had published. At the time, Fela was a cult figure in the UK and I was working on one of the few articles about him.
 Back in Nigeria and the rest of West Africa, though, he had been a major figure for over a decade. When he died Lagos came to a standstill as a million people turned up for his funeral.
Fela died of an Aids-related illness in 1997, and it seems his profile outside Africa has been steadily increasing. Barely a month goes by without new re-releases of his music.
 Next month sees yet another box set, this time selected by Brian Eno, a musical pioneer himself – as well producer of U2, Coldplay and Talking Heads – who says he has played his music more than any other artist. He also said:"I thought it was the music of the future in 1972 and I still do."
Fela's music – or the Afrobeat genre that he founded – can be heard in lofts in fashionable Dalston in London or Williamsburg in New York, and current popular indie artists like Vampire Weekend, Franz Ferdinand and Damon Albarn have acknowledged a musical debt to him. Albarn has worked with Tony Allen, the original drummer in Fela's Africa 70, who continues to release albums.
Fela's crossover to a mainstream Western audience was boosted by the musical Fela! Which ran in London and Broadway in 2010. And now there's a feature film – Finding Fela – directed by Academy Award-winner Alex Gibney, showing in a few cinemas in the US and rolls out in Europe and beyond in September. As a musician and social activist, he is increasingly being compared with Bob Marley.
Since the early 1970s, Fela and his bands Africa 70 and, later, Egypt 80 built up an audience in Nigeria and elsewhere in Africa. People were drawn to the revolutionary politics of his music, with songs like ITT (International Thief Thief), which attacked multinational corporations and Zombie, which parodied the mindless military types who unquestioningly followed orders.
In the course of his life he was arrested more than 100 times, imprisoned and beaten. Like Bob Marley, he was a man of the people, with a strong political agenda.
But it was as a musical revolutionary that he became a talismanic figure. In Gibney's film, Paul McCartney recounts how he saw Fela's band when recording Band on the Run at the EMI's Lagos studioin 1972. "They were the best band I've ever seen live" he said. "When Kuti and his band eventually really began to play, after a long, crazy build-up, I couldn't stop weeping with joy."
One of Fela's main musical inspirations was the funk of James Brown – who was in turn influenced by Kuti after his group visited The Shrine, Fela's nightclub in Lagos.
As Brown's bassist Bootsy Collins recalls: "We were telling them they're the funkiest cats we ever heard. I mean, this is the James Brown band, but we were totally wiped out!"
Other revered musicians in the '70s – from Stevie Wonder to Gilberto Gil – came to Nigeria's largest city to see what the fuss was about. Great jazz musicians like Miles Davis also acknowledged him as a "life-transforming artist". 
With some of the top musicians in the world backing him, why didn't he become a global star 40 years ago?
One reason Kuti wasn't better known in his lifetime was his personality – he was a difficult, complex man with a self-destructive streak. When Paul McCartney offered to have Kuti and his band as guests on Band on the Run, Fela got up the next night at The Shrine, and said "the white man has come to steal our music."
 McCartney said at the time: "Do us a favour, Fela, we do OK. We sell a couple of records here and there." Band on the Run, incidentally, was the best-selling album of 1973 and being on the record would have put Fela on the world map.
When Motown wanted to set up an African label called Taboo in the early '80s, it offered Kuti a deal. Rikki Stein, Kuti's manager and friend, says Kuti's response was to contact the spirits via Professor Hindu.
 The spirits refused to let him sign for another two years. Kuti also refused Motown his back catalogue and wanted $1m in cash. "Even then, Motown went along with it," Stein says. "But after two years, in April 1985, the very month that Kuti was about to sign, the Motown guy got the sack and the deal was off."
Kuti received other offers from American record labels in the '80s, but at the time the problem was he was producing 60-minute-long pieces. "Can't you do a three-minute song for the radio?" Stein recalls asking. "Fela just said: 'I wouldn't know how to.'"
Fela avoided the Western companies who he saw as imperialist – and mixed with his lack of radio-friendly material –made him a difficult sell. But one way of understanding his music is as he saw it himself.
Kuti studied classical music at Trinity College in London in the early '60s, where he also had a jazz and highlife band called Koola Lobitos.
When I asked him, cub reporter style, who his favourite musician was, he said: "Handel. Western music is Bach, Handel and Schubert. It's good music, cleverly done. As a musician, I can see that. Classical music gives musicians a kick. But African music gives everyone a kick."
In the '80s, he started calling his music "African classical music" – and is quoted in the new film saying you wouldn't expect composers like Mozart or Beethoven to write three-minute numbers, so why should he?
— BBC
While many of his political insights on religious fundamentalism, corporate greed and political corruption are still prescient, the musical and Gibney's film have been accused of underplaying much of Kuti's controversial opinions on women and homosexuals, which sit uncomfortably with modern liberal mores.
 He could happily sing anti-feminist songs such as Lady or Mattress and was unapologetic about his views. As he put it: "To call me a sexist... for me it's still not a negative name. If I'm a sexist, it's a gift."
Nor do the film or musical go into any detail on his death from an illness arising from Aids. He was in denial about the disease, and described the use of condoms as "un-African" – the last song he released was a tirade against them.
Fela apologists say though his death actually brought Aids out in the open, many lives were saved as a result. His opinions were to some extent provocation.
 As Bill T Jones, the director and devisor of the extraordinary choreography in Fela! And a talking head in Gibney's film, sees the problem: "He would say things like, if you aren't a real man in this life, you will come back as a homosexual.
Although he called himself a priest, for example, quite a few Yoruba practitioners have called him a poseur. He was first and foremost a showman. I think of him as a sacred monster."
Rikki Stein doesn't think Fela could ever reach Bob Marley levels of global awareness. "He wasn't a popster" he says, but interest in and knowledge of his innovative and dynamic music is still increasing rapidly.
As it happens, a new pop star from Nigeria, D'Banj, who has described himself as a "cross between Fela Kuti and Michael Jackson" and had a global hit in 2012 with Oliver Twist, has an album out later in the year and may well achieve the pop success that Fela never did.
Still, a million people saw the Fela! musical, and with luminaries such as Jay Z endorsing him, a lot of young people have now been made aware of him – and the new film will only increase his fame. But perhaps the way to think of Fela Kuti is less like the African Bob Marley, but more as he saw it, the African Handel or Shostakovich.