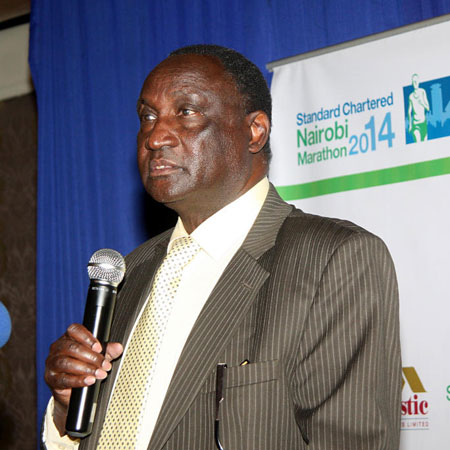 Age and vagaries of managing athletics in Kenya could soon see a man who has seen it all in the athletics world call it quits.
In an interview with KTN Sports, embattled Athletics Kenya (AK) President Isaiah Kiplagat seemed to hint at a possible early exit.
"If there are people waiting for me to go, let them prepare themselves, instead of just fighting. I am about to go. I am tired; my age does not allow me to go on. Even if I am working, it gets to a time when you don't fight your grandchildren; you just leave it and go," Kiplagat said.
Kiplagat has been at the helm of AK since 1992, and now dusk seems to falling on him faster than he probably expected, as even his vice chairman may not stand by him this time round.
Cracks seems to be widened in AK especially after the nullification of Wilfred Bungei's election as Nandi county chairman.
The 2008 Beijing Olympics 800 metres gold medalist was on August 27 elected the Nandi County Athletics Kenya (AK) branch chairman at a special delegates meeting in Kapsabet. Bungei's election was however on interim basis after the then chairman Abraham Mutai, was declared 'unfit to hold office' after being convicted in a court of law for incitement in May 2013.
According to AK's constitution, an office bearer who is convicted of an indictable offence, not being an offence under the Traffic Act, resulting in a term of imprisonment, shall automatically cease to be a member of the federation.
But Kiplagat opines that since Mutai has appealed, and the court is yet to rule, other regions should stop meddling in matters outside their jurisdiction.
Kiplagat argues, "Mutai has appealed and already said that if the avenue of appeal fails, he will relinquish his position on the same day. How does Machakos affect central or coast? This is an individual fighting his own case. It is not a criminal case. I don't know why it has become such a big deal. We do not allow coups, because if it happens in one region, it will happen across the board."
However, AK Vice President in charge of the technical department, Paul Mutwii, openly disagrees with his boss.
Mutwii believes that Bungei was elected as per the stipulations of AK's constitution.
"We, as chairmen, summoned Bungei and after tabling the facts, found it proper that our colleague (Mutai) step down. We cannot engage the president because he does not seem to accept that we are a body that can meet independently," says Mutwii
According to Mutwii, the branch chairmen are the officers on the ground, where athletics development take place, and as such, they are the ones to be consulted on matters athletics.
Mutwii's sentiments are supported by Nairobi branch chairman Barnabas Korir who has accused Kiplagat of interference.
"The constitution should not be followed selectively. In my opinion, the president should have asked Central Rift to come up with recommendations, and act upon those recommendations instead of interfering," says Korir.
But Kiplagat maintains his ground saying, "We don't have time to fight in sideshows. We are preparing for next year's World Championships and 2016 Olympic games."
However, as Kiplagat talks tough, plans are underway to force him out. Describing Kiplagat's sentiments as unfortunate, Korir believes that time is up for AK's longest serving office holder.
"Nobody wanted to force him out, but the way he is running things, 'huyu mtu anafaa kuenda' (this man should leave)."
Korir and Mutwii are in agreement that Kiplagat has to go. Mutwii nonetheless recognises that the decision to get the president out lies with the affiliates who hold the votes.
"Right now, nobody is talking about succession, but if that is what he wants, I do not understand why he has not called the electorate so that he can step down. Kiplagat has done his job, and the sooner he steps down, the better," says Mutwii
Kiplagat has already hinted that he is serving his last term.
"It may not even complete my term. Let them just organise themselves in their regions, and offer themselves to the electorate," a seemingly fed up Kiplagat told KTN Sports during an interview at Riadha House.
Korir however thinks that Kiplagat's words may not hold water.
"He doesn't mean it and will have to be forced out. That is why some people say they will bring a wheelbarrow to remove him from the office. He cannot go, he is just buying time. How many times has he done that? Since 2004 'anasema' 'this is my last term'," laments Korir, adding that Kiplagat has reduced the board members to mere rubber stamps.
"He is a dictator. I wish you could sit in his executive meetings. In fact, some of us do not even want to attend those meetings, because even when you raise issues to be discussed, he will rubbish them," adds Korir.
According to Mutwii, AK can do without Kiplagat. He says that, "If he steps down today, we will call a special general meeting of affiliates the following day and fill the post. Nobody is indispensable in this world. Depending on how he handles the issues facing the electorate, they may force him out through a vote of no confidence,"
Mutwii adds that should Kiplagat fail to step down soon, then "it could be a very big embarrassment."