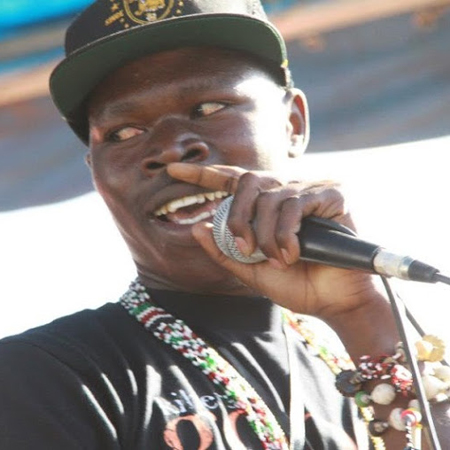 Rapper Victor Ochieng' aka Vicmass Luodollar on stage Photo: Courtesy
Victor Ochieng' aka Vicmass Luodollar (24) grew up on the streets witnessing gang life before his talent rescued him and as AUSTINE OKANDE writes, this rapper could be Octopizzo's next protégé
His speech is poetic. His words are calculated and his humble tone is measured. During this interview, Vicmass Luodollar can hardly hide his humility.Pulling accomplished rapper Octopizzo into his testimony, he goes down memory lane, recalling his days as a toddler growing up deep in the sprawling Kibera slums before becoming a street urchin on the streets of Kisumu. Cold nights and near-death experiences were everyday occurrences, threatening his very being and almost snuffing out the astounding rapping talent he is now using to highlight the truth about street culture. He still recalls it all.
His story is not one of an ordinary rapper trying to hustle in Nairobi. It is unlike the usual street hustle every upcoming artiste goes through.
Palpably aware how far he has come, Vicmass Luodollar wants to speak about life on the streets of Kisumu and how he came out of the gutter. His hit track Burning Train is a symbolic memoir to mark that distance; whatever was once in the dark is coming to light.
A few years ago, he was wondering in ragged clothes with no place to sleep in Kisumu. Today, Vicmass Luodollar, as he is fondly known on the entertainment scene, is one of the most celebrated emcees in the lake-side city.
"Nobody chooses to be on the streets, I mean the constant running battles with the council askaris, the cold nights and eating from trash cans is not inviting at all. I respect the streets as that is where I nurtured my talent and it moulded me," the newbie rapper explains.
Vicmass was introduced to the street life at the age of six, immediately after he lost his father. But two years later, his mother rescued him. "I went back to school but I later dropped out in Form One due to lack of fees," he recalls.
Despite the hurdles he faced, Vicmass' dream of becoming an entertainer never fizzled out. In 2007, he started to feature in rap battles and curtain raised for different artistes at Kisumu events, but it not was until 2008 that he recorded his debut single Burning Train, which was well received.
Life after the streets was not rosy either as Vicmass reveals.
"I became a hawker at Emali to take care of my siblings and pay studio fees,"
He describes his music as blend of rap and hip-hop laced with a contemporary beat.
Nonetheless, carving a niche in Nairobi has been a daunting task for Vicmass Luodollar.
"Here it is cut-throat competition. There is a lot of money. But this seems to be circulating among the established artistes only. As an upcoming artiste you have to work smart and learn from the best," he notes.
Vicmass reveals that he had to part with Sh5,000 to pay for a collabo with hip-hop head Labalaa of Ukoo Flani Maumau on one of his popular songs - Ndesna Bwoyo.
"This might sound like small money but to me every penny counts. I came to Nairobi for a simple reason; to be nationally recognised as an emcee," he says. Vicmass Luodollar now performs weekly at different venues in the city with the Beathogs Band - he is the band's official rapper.
"Now I own a small kiosk along Emali road where I sell snacks," he adds.Some of his hits include Pesa and Mama. He has also been voted best hip-hop artiste at the Vybez Awards (awards for musicians in Western Kenya).