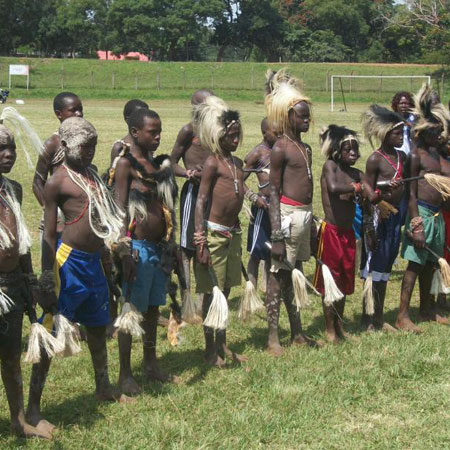 A group of boys ready to face the knife after the traditional circumcision was yesterday launched in Bungoma County at a function presided over by governor Ken Lusaka at Kanduyi stadium. Lusaka said that plans are underway to subsidize the traditional circumcision to reduce the burden from poor parents and also ensure that the culture does not get extinct due to poverty.PHOTO: TITUS OTEBA
Uncircumcised men in Bukusu must be hiding their faces in shame.
With all the attention shifting to circumcision festivities in the county, no man wants to be branded as an 'outcast' who was too scared to face the knife.
However, in Turkana, the script is different.
Last week, men from the community staged a demonstration in Bungoma to draw the attention of authorities to the injustice of being forced to undergo the cut.
Speaking to the media, David Ekai, one of the men who was forcefully circumcised, complained that they were being forcefully subjected to a foreign culture.
It didn't take long before women added their voices to the trending subject of circumcision.
 Airing their sentiments during a radio show whose audience is largely drawn from the Western region, some women claimed that circumcision was good for all men as it improves their performance in the bedroom. Besides that, it is hygienic.
Traditionally, the Bukusu – and majority of communities that practice circumcision – consider circumcision a necessary rite of passage to manhood for boys.
A well-publicised report by the World Health Organisation (WHO) concluded that circumcision lowers the risk of HIV transmission by more than 50 per cent.
The claim by the women that circumcision improves a man's performance is however unfounded. Dr George Githuka of National AIDS and STIs Control Programme (NASCOP) says that there is no scientific or biological data to support the notion.
"Studies that have been done before show that there is no difference in the amount of pleasure that one gets during intercourse with or without the foreskin. Even performance is not determined by the foreskin," added the medic.
Dr. Githuka explained that scientific literature maintains that the main sexual organ in the human body is the brain – which controls both pleasure and performance.
He nonetheless recommends circumcision for all men because "it confers up to 60 per cent protection against HIV infection during intercourse.'
According to Dr. Githuka, the foreskin has a thin membrane which is prone to minute injuries and wounds, thereby making uncircumcised men vulnerable to pathogenic bacteria as well as viruses.
Cells on the foreskin are also said to have an affinity for viral particles, which increases the risks of infection.
According to the doctor, circumcision is also hygienic as it exposes crevices underneath the foreskin where pathogens would have thrived.
He is against the the idea of promoting the practice for the sole reason of improving performance.
"It is not true that circumcision improves sexual performance," he insists.