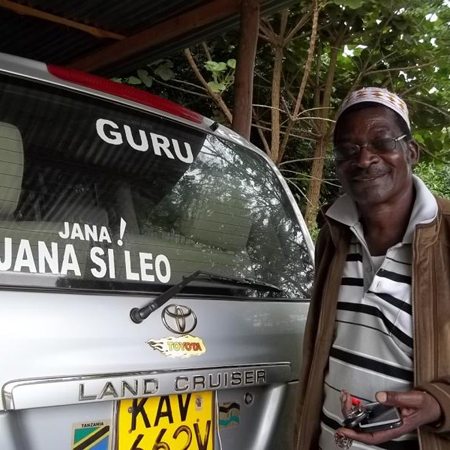 Few Kenyans coin as much from writing as he does. You must have met Wallah Bin Wallah, the Kiswahili Professor. If you haven't met him in person, then you definitely didn't escape studying his Kiswahili Mufti books.
These are compulsory from class one through class eight, you know.
When we meet Wallah at his now notable Wasta Kiswahili Centre in Matasya, he was working on manuscripts for 16 different textbooks on request by a leading East African publishing firm.
While the publishers had given short notice, its no sweat for Wallah. Writing Kiswahili books is how Prof Wallah Bin Wallah mints his dough via royalties.
Consider this and do the math. There are slightly less than 300,000 class eight students who clear school annually. The bulk must read Kiswahili Mufti. Throw in the over 7, 000 primary schools with student enrollment nosing northwards towards seven million, and Wallah Bin Wallah will bless the day he decided to muster Kiswahili.
Listen to what happens come end of year, when his royalties kiss the Sh50m ceiling: "Fifty million is just an average. It could be more or less. It could even go up to Sh70 million or come down to Sh30 million per year," confirms Wallah Bin Wallah as he talks of the fortunes he rakes in from writing Kiswahili text and course books.
"Kiswahili is part of my life. It is not only Kiswahili that pays, whatever you do, try to do your best. Never undermine an idea. There is no bad idea or good idea. What is vital in an idea is how it is implemented,'' offers the Kiswahili guru.
"You can win, but winners do not do different things, they do things differently,'' he emphasised displaying Paul Arden's 'Whatever You Think, Think the Opposite.'' Conducting research, consulting the experts, being sure and being timely, are some of the things that make one successful, according to Prof Wallah, who admitted making an average of Sh50 million annually was normal.
Besides course books, Prof Wallah has also written short stories including: Zawadi ya Sanda, Sitaki Simu, Tumgidie Bwege, Mbwa wa Majini, Kicheko cha Maiti, Kifo cha Wema, Kitanzi cha Utandawizi, Sifi Mara Mbili and Bado Mmoja, with 19 in the pipeline.
The hubby to Estallah Wallah and Silviallah Wallah has plans to share his fortunes in improving standards of Kiswahili.
The father of Fidia Nusra, Jeff Kauchape, Julisha Mantiki, Jitu Kamaliza, Sadfa Nana Wallah and Zaibu Musa launched 'Tuzo za Wasta' (Wasta Awards) in 2010 which is held on October 10 every year. "... my intention was to motivate people to continue using standard Kiswahili,'' said Wallah, who holds a Masters and PhD from the University of Dar es Salaam, Tanzania.
The Wasta Awards have no sponsors yet. He had plans to upgrade Wasta Kiswahili Centre into a training institution and had made all preparations, but the Ministry of Education insisted that the institution ought to be a branch of a reputable university. Wallah shows some of the graduation gowns he had purchased for the Wasta Awards.
Wallah holds a philosophy that 'Ndoto za ukweli hutimia, hata zikichelewa hazipotei. Ndoto za wongo hazitimii' (Dreams which are true are fulfilled even if they delay. False dreams aren't fulfilled).