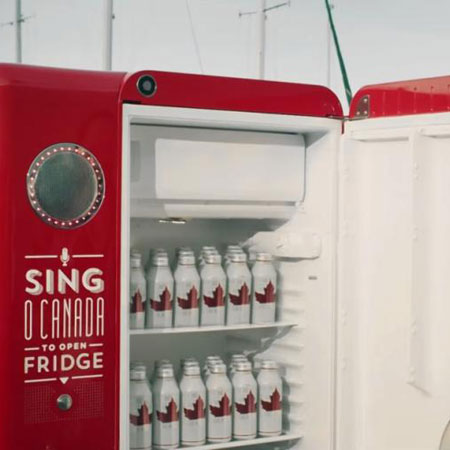 Get ready to learn the Canadian National Anthem because this beer fridge will only work if you know ALL the words.
This video is the latest ad by Molson Canadian - the ale company that will reward you for your patriotism across the pond.
In order to get the door to open and help yourself to a drink, you've got to bellow out the words to 'O Canada' before a cold brewski will be in your hands.
But don't think you can wing it when it comes to the lyrics or you can forget having a cold one.
In this clip, passersby are more than happy to exercise their lungs and wait for the drink to be theirs.
Throughout, groups of people can be heard singing along before the fridge miraculously opens in front of them.
Afterwards there's only one thing left to do - celebrate with their booze.
The advert has been released in time for the Great White North's 147th birthday which takes place today.
Since being uploaded onto YouTube, the clip has been watched more than 1.5million times.
Molson Canadian previously set up a beer fridge during the Winter Olympics in Sochi which only opened by scanning a Canadian passport.