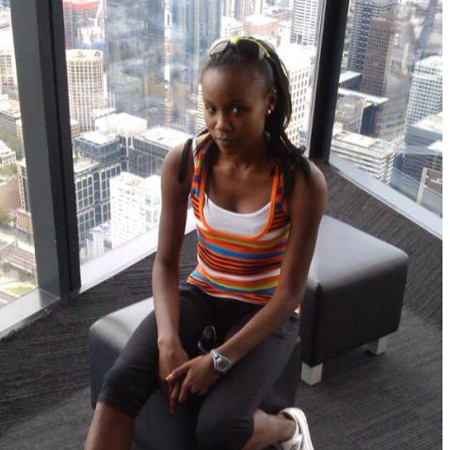 Mercy Cherono has stood out as one of the most beautiful ladies in the athletics world.  Photo:Courtesy
When USA sprint queen and dazzling beauty Sanya Richards Rose expressed her interest and love to train with Olympic and world 800m record holder David Rudisha, Kenyan male sporting enthusiasts cooed with envy.
But be warned, Sanya: Kenyan beauty track queens are taking over the beauty scene. Gone are the days when Kenyan female track stars wore tired jackets and sweaters. These new girls are now benching stunning Ethiopian track stars like Tirunesh Dibaba, whom Kenyan men drool over, in beauty and style.
Kenya's world 5,000m silver medalist Mercy Cherono is no longer that little girl from far-flung Kipajit Village in Bomet County, but a track assassin. And she is gorgeous in her running kit and absolutely stunning in an evening gown!
For the two-time world 3,000m champion, World Youth champion, Commonwealth Youth champion and two-time World Cross Country champion, progression from junior to senior ranks was shaky. But when she threw the gauntlet to fierce Ethiopian rivals, and raced Meseret Defar to the wire at the 2013 World Athletics Championships in Russia, it was evident she had come of age.
This she did with a hairdo sporting colours of the Kenyan flag that caused quite a stir and admiration from the menfolk. "Cherono is the perfect definition of a billboard girl. Her hair brings out her personality, the colours indicate she is 'out of the box' unlike most Kenyan athletes who have been there before," says Moses Maina, an electrical engineer and one of Cherono's admirers.
Cherono has come a long way from the clean-shaven Ngariet Secondary School girl who raced her peers to the ground as a junior. She says it is the love for her country that has  inspired her latest hairdo.
"The Kenyan colours inspire me when I'm racing. I will braid my hair in the colours of our flag when I go to Glasgow to defend the 5000m title on behalf of Vivian Cheruiyot. I love this hairstyle. It motivates me. That's why I make sure I plait it ahead of major competitions. My hair is locally done at a Salon in Kericho.
I just woke up one day and realised I can be a brand ambassador for my country in many ways. Of course winning competitions stands out as the best way to market Kenya. But I have been getting numerous compliments wherever I go. It's obvious I will be keeping this hairdo for a long time to come," says Cherono.
A photo upload on her Facebook attracted hundreds of likes and tens of comment in a few minutes, showing the great following and fan base she has.
When off-season, Cherono takes full advantage of her wardrobe with trendy outfits which she misses during competitions. "I am an avid shopper and try to stay trendy all the time. I shop outside the country, mostly in Dubai and the United States. But I only get to wear the outfits to friends' weddings, church and outings," she said.
The traditionally tailored suits, which the Kenyan beauties put on while attending major championships, are slowly getting replaced by trendy Africa-inspired outfits. Cherono is no lone ranger in the female beauty league. Her training mates like former world 800m champion Janet Jepkosgei, world champion Eunice Sum, world relays sensation Agatha Jeruto, schoolgirl Faith Chepng'etich, the reigning world junior 1,500m champion, are just as lovely.
She believes she could be just as brilliant in a beauty pageant as she is on the track. "I can take on the catwalk, but maybe I need to build some courage first," says Cherono with a giggle.
Chepng'etich, a Form Two Student at Winners Girls in Kuresoi, now sports braided hair, a big switch from her once clean-shaven do. "You know there are many challenges when you are growing up and struggling to make it to the seniors... I accepted the change and plaited my hair," said Chepng'etich.
As Kenya prepares for major global championships, brace yourself for battle beyond the tracks. Get ready for a showcase of Kenya's beauty. The fine ladies of track are here. And they mean business.