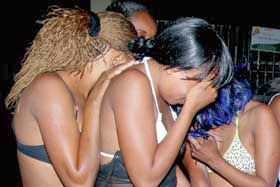 Sex workers caught on camera. Photo: waithush.com
It has defied time, and vagaries of a fast growing town life to remain a profession that is viewed with suspicion and scorn. Its baptism from the politically incorrect prostitution tag, to the more palatable 'commercial sex work' has not curbed the mixed feelings it arouses.
So, when a passionate discussion over 'night nurses' recently erupted in the Nairobi County Assembly, the house was left divided.
Nairobi has close to 10,000 female hookers, according to the Bar Hostess Empowerment and Support Programme (BHESP), which is what prompted nominated MCA Jane Muasya, to table a motion seeking to 'strip' them out of the city. She claimed that prostitutes run their business openly and indecently.
"Aware that sections 153 and 154 of the Penal Code prohibits both men and women from living wholly or partly on earnings of prostitution or from soliciting, commercial sex workers now undertake their unlawful practice openly within the city centre," Muasya said when she moved the motion on June 5.
The Penal code however does not provide for unfair arrests and abuse of their rights as Mike Wachira, Deputy Director for Centre for Rights Education and Awareness (CREAW) explained, adding that "the law criminalises living off proceeds of prostitution, but not the practice per se, unless it can be proved that they actually benefit from such."
'Nuisance' offences
In Nairobi, the sex workers are often arrested on grounds of being a 'nuisance'. The City by-laws prohibit anyone from loitering in the streets over prostitution. Pressure groups, however, think the by-laws used to arrest and prosecute sex workers in Nairobi are archaic and should be expunged.
BHESP told The Nairobian that the by-laws have been overruled by the current constitution passed in 2010.
"It's hard to be proved (in court) that these women live off prostitution proceeds, and that is why when the county askaris arrest them, they are charged with loitering. But how do you tell if someone wants to commit prostitution?" said BHESP executive director Peninah Mwangi.
The motion to ban prostitution was passed with 28 votes after the acclamation tied twice. Thirteen MCAs opposed it and three abstained, but many members opposed to the law stepped out of the House after a contention on the acclamation method.
"There is a Bill of Rights (in the constitution), and now we appear to segregate a few individuals with this motion. We would be violating human rights," Kahawa West rep Ngaruiya Chege said.
His Nairobi West counterpart, Maurice Gari, who confessed on the floor of the house that he was once a client of the sex workers, disapproved of the regulation.
A solace to men
"I do support 'businesses' where men of this county are customers. As men of this town, we should know where to have sex. It depends on the amount of money you have," Gari told the excited assembly.
Manoah Mboku, the Nairobi South rep, argued that sex workers are also a solace to men in shattered unions saying, "These sex workers help some men who are constantly beaten by their wives."
The Pub, Entertainment and Restaurant Association of Kenya (Perak) CEO Lilian Kalela Muhanji, said the law may not hurt their businesses as well. "Ours is largely alcohol, music and food businesses, and these are what the patrons come for. Perak does not encourage sex trade as it is illegal," Muhanji said.
The members opposed the ban saying the legislation was not clear on enforcement.
"We cannot go around passing motions without proper structures. This will deny women their privacy and rights, because when askaris dislike their manner of dressing, they will simply harass and arrest them," Janet Kimondo, a nominated member, reasoned.
In 2008, investigations by FIDA Kenya on human rights violations of sex workers found that police falsely arrest sex workers to extort money from them.
Crossing boundaries
However, the advocates for the regulation faulted the women in the sex business for crossing boundaries in their trade, and argued it would be wise if they look for clients 'digitally'.
"If they want to run the business, they can rent a house then put their information on a website," Majority Leader Elias Otieno proposed.
Nominated member Alexina Muddy argued that sex workers should be monitored. She regretted the impiety with which the trade is run saying her son together with her have been harassed by the women before.
"They confronted us in the car, and one opened 'her downstairs lips'. I saw it. She asked my son to take her home," claimed Muddy.
Majority chief whip David Mberia said: "It is disgusting when I drive home and a scantily dressed girl shouts at me saying: 'Shhhhhhh, shot, shot...'
Alexina's sentiments were echoed by colleague Bishop William Abuka who claimed he has been a victim of the sex workers while in the company of a fellow clergyman.
"We cannot build our culture from Koinange Street. I have been a victim of the sex workers, and it's time we show that even if it is a matter of willing buyer, willing seller, it is wrong," Abuka piped, adding that it has been inhuman for the county workers to be collecting used condoms left behind by commercial sex workers as part of garbage.
The BHESP director said that removing the sex workers from the streets will erode the gains made in the fight against HIV/Aids.
"The moment they will be driven out we will lose touch with them, and it will be hard to tame the HIV/Aids scourge that now stands at 33 per cent in the city," said Peninah.
MCA Mberia told the County Assembly that polygamy is now legal -through a new law passed by Parliament recently- and thus a reason to stop men from seeking sex workers.
In February 2012, Nairobi Mayor George Aladwa attempted to review the by-laws to allow the sex workers to operate freely in the capital saying: "The Council will not allow sex trade to flourish under any circumstances as it's against the law." Aladwa revealed that commercial sex workers had requested his office to carve out a section of Koinange Street to them. His move met resistance from members.