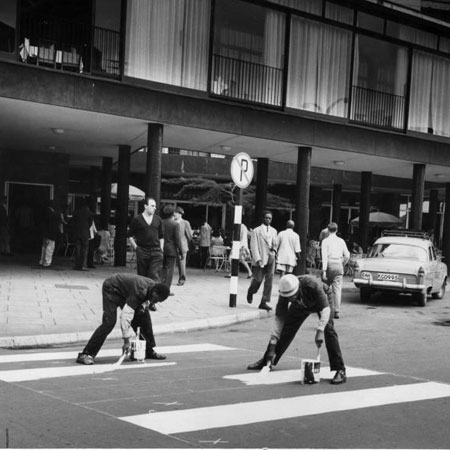 New Stanley Hotel on Hardinge Street, now Kimathi Street Photo: Courtesy
Kimathi Street is one of Nairobi's haven of excesses, probably the most evident symbol of the city's hedonistic nature. It is named after the icon of freedom struggle, and is thus supposed to conjure memories of freedom.
But whatever transpires along this street would make Dedan Kimathi shake his dreads in wonder in his grave.
On Thursday and Saturday evenings, the street becomes a beehive with revellers darting in and out of the many pubs along the street, from as early as 4pm.
By 7pm, it's full house in most pubs along Kimathi Street, with some of the establishments extending their sitting areas to the pavements. The booming sounds from the clubs render a carnival mood to weekend merriment.
Most revellers who frequent Kimathi Street joints told The Nairobian they prefer the location because of safety and a wide choice of joints. Kimathi Street is home to IPS Building, once Kenya's tallest commercial building at 12 stories, and the location of Emperor's Cinema, then Nairobi's swankiest movie theatre.
Then there's The Sarova Stanley, majestically tucked in a corner plot since the turn of the last century, and where the first Tusker lager was served in December 1923.
Opposite The Stanley is CfC Stanbic Bank House, once the Torr Hotel and the place to be in Nairobi. Ewart Grogan, after whom the 'Girogoni' area in downtown Nairobi is named and who gave the city names like Chiromo (in Malawi where he once stayed), and Gertrude Garden Children Hospital in honour of his wife, owned The Torr Hotel.
Diagonally opposite the bank is the 'Twin Towers' that house a renowned media house, and next to it, the City Star Restaurant, which was previously Ibiza Bar, named after an island in Valencia, Spain.
Beat House, a popular joint was once situated there, as was Visions, where the middle class flocked to dance in formal gear, is the current GT Bank premises.
Although branded a terrorist and condemned by the British colonialists, Dedan Kimathi will forever remain honoured among Kenyans, not only for his heroic acts for which his statue was erected three years ago, but also by the street that bears his name and is the heartbeat of Nairobi's nightlife.