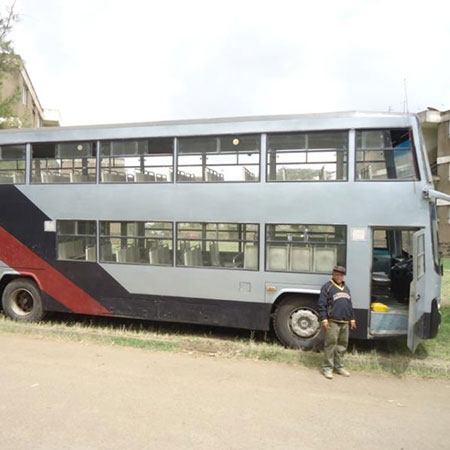 Buru buru residents may soon enjoy continuous double-decker bus rides courtesy of Mike Sonko.
The bus has been grounded at Buru buru shopping for the last five years, but is expected to hit the road on May 28.
In 2010, Sonko used the same bus to offer residents free rides to and from the city centre. This, plus his philanthropy, allegedly helped him floor then Makadara MP Rueben Ndolo in a by-election.
Alex Mlami, the driver, told The Nairobian he was happy to drive Sonko's bus.
"I drove the bus since it was imported from the UK around 2002. Unfortunately it developed mechanical problems due to our poor roads just after the by-election. We were forced to abandon it until recently, but I am happy we are back in business gain," he said.
The Scania truck, would, on a good road, manage up to 120kph, but Alex said he has never driven beyond 100kph due to congested roads in the city.
In a trip, the bus accommodates 105 passengers, 33 on the lower deck and 72 on the upper one. No passenger will be allowed to stand on the upper floor as that could cause the vehicle lose its balance.
"The boss (Sonko) decided it's time we roared back to business. We will operate from JKIA to the city centre via Jogoo Road.
"At the moment we are waiting for permit stickers and a TLB licence before we hit the road. The bus is also fitted with airbags already just in case of anything," Mlami said.
Unlike other city buses the double-decker will have three conductors to ensure everyone pays their fare.

Photo: Courtesy