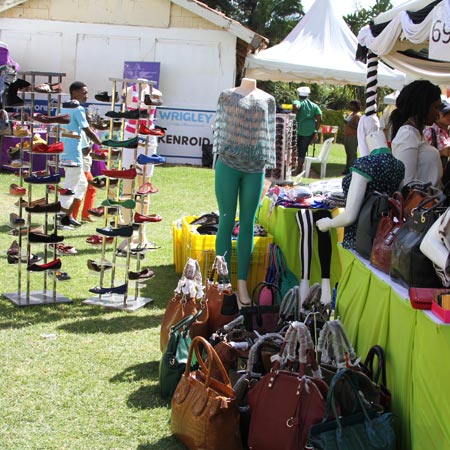 Nairobi Fashion Market              Photo: Courtesy
As global fashion enthusiasts gathered in Paris for the Prada Fashion week, Nairobi's human and motor traffic was plying the expansive Ngong Road for the Nairobi Fashion Week.
 Forget the Barclays Kenya Open golf event at the beautiful Karen Country Club, Ngong Race Course was the place to be on March 8-9.
Popularly known for horse racing and betting, this time a different experience was going down. As it has now been the norm twice annually, buyers from around East African flock to the Race Course for Nairobi's largest outdoor retail fashion bonanza.
The season's newest collections are displayed by emerging designers and business entrepreneurs at the Nairobi Fashion Market (NFM). At stake were the latest trends of apparel, accessories and gifts and lifestyle collections. 
The Nairobi Fashion Market, just so you know, was the brainchild of Lynette Anderson, a designer for the longest time.  The idea was to raise awareness of her small business in interior soft furnishings. That was in November 2010.
"Just like Zaramu my design house, I noticed that there were plenty of Fashion houses, designers, entrepreneurs and retailers who didn't have a tangible platform to market their wares and create brand awareness. I also noticed that the fast growing middle class in Kenya were seeking these products and services, they just don't know where to get them," she said.
Conceptualised on a philosophy that aims at building a bridge between the people and players in the industry, Lynette said that initially, she just thought that NFM would just be an accessible and affordable platform where purchases were made in a relaxed and fun-filled environment.
But as numbers kept surging, the team involved had to make adjustments.
"It has been a learning journey throughout and today, it consists of stalls, which are taken up by the exhibitors, to display and showcase, a kids play area, food and concession area and a runway for the fashion shows and performances that take place," she said.
The event has since grown to be a biannual fashion show with, a 'Spring Edition' in March and a 'Fall Edition' in October.
"We now host about 100 exhibitors in each event, and have to turn away a number of others simply because there is not enough space in the venue for all of them. Some of them are repeat exhibitors and some have been with us from the very first event," Lynette said.
But is it fashion or just show off?
Stylist Connie Aluoch says Nairobi's fashion industry has been steadily growing for the last five years with the established designers like Patricia Mbela, Monica Kanari Ann McCreath and new ones like Wambui Mukenyi, Wambui Kabue, Nick Ondu, Katungulu Mwendwa, Nickson Olenyo and Martin Nyariki among others.
"Fashion and beauty are some one of the fastest growing industries in Kenya. Fashion is influenced by trends and culture and currently Nairobi is bubbling with creativity in the entertainment, arts and fashion industry and we as Kenyans have begun to embrace Made In Kenya," Connie told The Nairobian.
But how often do we have designs like Ellah by Fionah Konchellah, a former Miss Kenya, Christine Beth's Tailor Made Jeans, Rift Valley Leather, Kali by Karegi, Zaramu, Afrostreet Kollektions and Sheena C, all pulling beautiful fashion shows on the runway?
The exhibitors who graced the Spring Edition left a successful lot having made requisite contacts and impact on the market.
"When we say Spring or call something in regards to the weather, we celebrate fashion season with the global fashion industry in keeping with the emerging trends. We basically show that our industry has grown enough to accommodate both local and international expectations," Fionah Konchellah told The Nairobian.
But away from the garments and attire business, there was more to be enjoyed. The ambience, the music and of course beautiful ladies too spiced up the event. Sports Consultant Sean Cardovillis together with Standard Media Group's Miss Tamima were the MCs and true to expectations, they kept the crowd entertained.
Donning Christine Beth and Jims Collection Cardovillis said, "I had a blast and kudos to the event organizers. I believe Lynnette is reaching out to the right crown and in turn taking the fashion industry in the right direction."
Just as the curtains came down, Tanzania's favourite Hussein Machozi pulled a surprise performance to the thousands at the show. The Bongo-flava artiste was a guest at The Nairobian tent, which gave the newspaper's readers a VIP experience.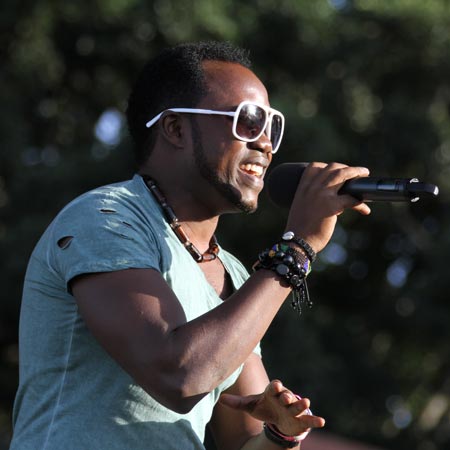 Hussein Machozi           Photo: Courtesy
"Throughout my life, I have always loved fashion and it feels so good to be at the region's biggest fashion fete," said the man of the Kwa ajili yako hit.
Lynette summed up the event: "NFM is definitely the place go to whenever it's on. We reach out to fashionistas, the fashion and lifestyle conscious. So when people want to come to the event looking fabulous... then we say why not?"
So next time you hear of NFM, you better get your best outfit and some cash to burn.