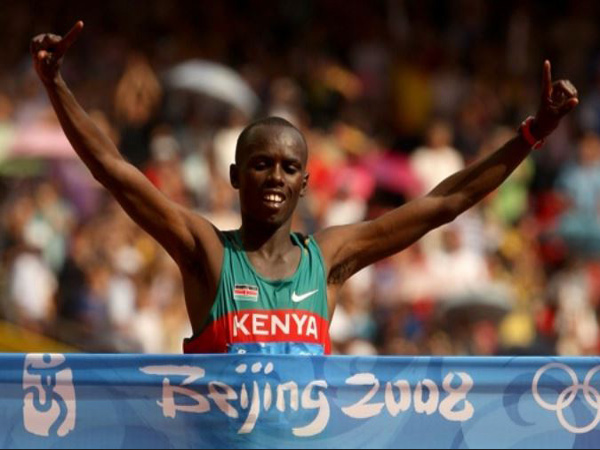 Samwel Wanjiru crosses the tape in beijing 2008 Oympics         Photo:Courtesy
To many Kenyans, marathon great Samuel Wanjiru was an Olympic hero with a disarming smile, a devastating finishing kick, tonnes of money in the bank and a loving wife.
Till the cracks emerged: Allegations of domestic violence, an illegal firearm, other women, and alcohol abuse.  Then came the final crack - on his skull, result of the racing legend tumbling down his balcony and dying in a story befitting a place in the memoirs of a homicide detective.
Sh500million
Finally, the jigsaw puzzle was unraveling: "Wanjiru had a lot of difficulties finding a lifestyle that suited his wealth. In the course of time, he had gathered more than US$6 million (more than Sh500million) from his athletics career. Despite this, he still behaved like most of his fellow villagers who had nothing to spend. He never considered meaningful investments," writes Frits Conijn in his book, Running on Empty.
Disturbed young man
Behind the disarming smile, Kenya's only Olympic Marathon gold medalist was a disturbed young man, lost and lonely, juggling leisure, career, big prize money and the pressures of managing the expectations of family, country and the world.
The chilling revelations in Conijn's book brings to question the unknown competing interests that often ruin the lives of budding athletes in Kenya.
Personal issues
In November 30, 2008, Barnabas Kipkoech, a Kenyan athlete died in Goiania, the capital of the Brazilian State of Goias.
Kipkoech was reported to have collapsed and later died while competing at a half-marathon in the central-western city of Brazil. Details about his death remained unclear with AK denying knowledge of his exploits overseas.
Three years later, Reuters reported that "a top college runner from Kenya who spent two days lost in an Alaska snowstorm earlier this month had to have both of his feet amputated due to frostbite".
Marko Cheseto told the press he had been "going through a lot of personal issues" suspected to be related to the death by suicide of William Ritekwiang, his close friend and fellow Kenyan runner from his hometown of Kapenguria, in February 2011.
In pursuit of glory
Kenya produces top class athletes and a podium finish at almost all the youth championships in the International Association of Athletics Federations is guaranteed. But little is known about what the young flag bearers go through in pursuit of glory.
Luring school girls
In January 5, 2011, The Standard alleged that top athletes were using their influence and money to lure innocent schoolgirls into sex. The number of young girls dropping out of school due to pregnancy kept increasing.
Earlier, in 2009, Kaptenden Athletics Club in Kericho had been shut following allegations of impregnation and marriage of under-age female runners by their minders.
Unscrupulous agents
Gilbert Koech, a retired athlete, husband and coach to marathon star Edna Kiplagat, says many things within the athletics circles are never reported and that there is an influx of unscrupulous agents flying into the country whose activities are neither monitored or known.
"We need to protect our athletes first, both locally and beyond our borders, before we even talk about taxation. There are some managers and agents who when you go to Europe, America or Asia, confiscate your passport and travel documents and you end up living at their mercy," Koech explains.
The 2010 Los Angeles marathon champion further states that some managers even take athletes' prize money and gifts. When the victims decide to change managers, the jilted managers use their influence to cancel the athlete's visa.
According to Athletics Kenya, such suspicious characters sneak into the country with tourism visas, or as journalists and even lure young athletes into doping.
Sounding warning
Speaking to The Standard on January 28, 2014, AK chairman Isaiah Kiplagat sounded a warning to foreigners who convince athletes to use drugs prohibited by World Anti-Doping Agency.
"They came in as tourists and photographers, but they are now engaging in coaching, contrary to their permits. They are now renewing their tourist permit without the government detecting," Kiplagat told FeverPitch
Easy pray
But sports Commissioner Gordon Oluoch says the buck stops with the athletes who easily fall prey to such crooks: "We must encourage the athletes to consult widely and AK should be on the fore front educating the athletes on what's best for them. It is a collective responsibility which should not be left solely for the government."
Oluoch, however, adds that the ministry of Sports has rolled out a scheme that will see every district in the country build a Talent Development Centre (TDC).
"The aim of the talent development centre is to harness talent and mold a holistic sports personality. The athletes who will come from the TDC will be well equipped with life skills and trained on how to handle the challenges that come with success," explains Oluoch.
This should no doubt fill a gap that has seen many young athletes, described by former Dutch long distance runner Jos Hermens in Running on Empty as 'generally raised in the countryside, had a simple background and lacked good education' exploited.
In Hermens' view, athletes can only keep their heads by practicing restrain and humility, even when large sums of money are credited to their bank accounts.