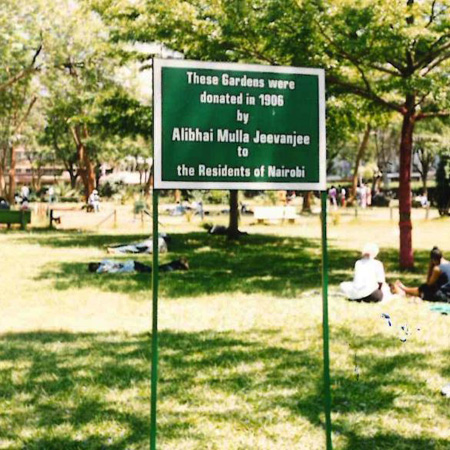 Jevanjee Gardens           
The Nairobi County  government is headed for a major confrontation with a lobby group over the proposed Sh30 million rehabilitation of Jeevanjee Gardens launched by Governor Evans Kidero and UN-Habitat executive director Joan Clos on February 24. 
While city authorities and UN Habitat say the improvement project is for the public good, Bunge La Mwananchi, a city-based lobby group, has vowed to put a stop to it saying the project is a ploy to convert the garden into private hands to the detriment of ordinary Nairobians.
Online petition
At the centre of the controversy is an ambitious modernisation programme that, among other things, plans to equip park users with free WI-FI, a performance theatre, a children's playground and exhibition stalls. 
Zarina Patel a Friend of Jeevanjee and a granddaughter of the late Jeevanjee, who bequeathed the park to Nairobians in 1906, recently took to the internet to accuse Bunge la Mwananchi members of being sexist arguing that they look down upon women, including her, who are supportive of the project.
Bunge la Mwananchi on their part claim that as Nairobians who use the park, they were not consulted and have vowed to go to all lengths, including the courts, to stop the project.
They already have drawn up a petition, which is circulating online, and on social media calling for the stoppage of the project. They demand that the park be left as it is for enjoyment of all Nairobians.
Also sucked into this war of words is the Safer Cities programme, which is coordinating the project between the county government and UN-Habitat.
Elijah Agevi, who heads the Safer Cities programme based at City Hall Annexe, says it is unacceptable for Bunge la Mwananchi  to hold everyone at ransom. 
"This project has been inclusive from the word go and representatives from Bunge have been part of this process too. It is, therefore, dishonest of them to now turn around at this late stage and claim that they have not been involved," says Agevi. 
'Sexist attitude of Bunge'
He further accuses Bunge members of being after money.
"They have heard there is some money from donors and now think that if they made noise they will be given a cut," he claims.   
Zarina agrees with Agevi's sentiments about Bunge's representation. She names Dinah Agai and Margaret Wanyonyi as being the representatives of Bunge in the committee that has been discussing the park's renovation. 
"The problem, as I see it, is that the Bunge have developed a sense of entitlement in Jevanjee Gardens. It is almost as if the Gardens exist for them only," writes Zarina. "They have consistently refused to respect/honour their own representatives in ForJ (Friends of Jevanjee Gardens). Of course the reps are women and the sexist attitude of Bunge is well known…"
However, Julius Okoth, the information and publicity secretary for Bunge sees things differently. 
"Contrary to what is being said, we are not disputing that the two women are members of Bunge," he says. "All we are saying is that Dinah was nominated to ForJ by virtue of being the president of Bunge. She stopped occupying that office four years ago but she has continued sitting on that committee without updating us. We do not know how Margaret got into ForJ."
Okoth adds that it is 'irresponsible' for Zarina to term them sexist.
"Could we have elected Dinah our president if we were sexist?" he asks rhetorically. "The fact that Zarina is a descendant of Jeevanjee does not mean that she can ride roughshod over everyone. This park is now out of the family's hand and belongs to the people of Nairobi. Maybe she should tell us what her interest in this whole issue is."
Okoth laughs off the idea that Bunge is after money. "Let them tell us who between them and us is after money?" he says.
"We have been consistent on this issue. They tried the same thing in 2007 and we repulsed them. Seven years later they have regrouped; what is the obsession with Jeevanjee? The park is fine as it is. UN-Habitat should channel their funds to more worthwhile projects like cleaning up the grimy Nairobi River."
Sh50 for Arboretum
Hassan Indusa, who is Bunge's deputy president, says city authorities cannot be trusted to keep their word. "We have been in this city long enough to know that if a piece of land is being coveted authorities will come up with all manner of stories and we fear this modernisation thing is part it," he charges.
"Look at the former Kigali Curio Market, which is now a shopping mall. What about the Ngara Jua Kali garage? People going to the Arboretum now have to part with Sh50.  "The same thing will happen with Jeevanjee," says Indusa.
"Once they fence off the area for development, the next time they open people will be charged to access the place." 
There other Bunge members who allege that the park is being prepared for future use as a car park for a proposed 60-storey building set to come up in the vicinity.
Agevi gets exasperated having to answer allegations levelled by Bunge members. 
"These people are peddling cheap propaganda. There is no basis at all for the rumours they are spreading," he says. "No one will be charged to access the park, just as there will be no commercial activities taking place at Jeevanjee."
Former Nairobi mayor Joe Aketch, who is an adviser to the UN-Habitat Safer Cities programme, accuses Bunge members of being self-centred. 
"Bunge people think they are the only people who use Jeevanjee Gardens. They should know that there are many other stakeholders including business that surround the area, students of University of Nairobi and other members of the public."