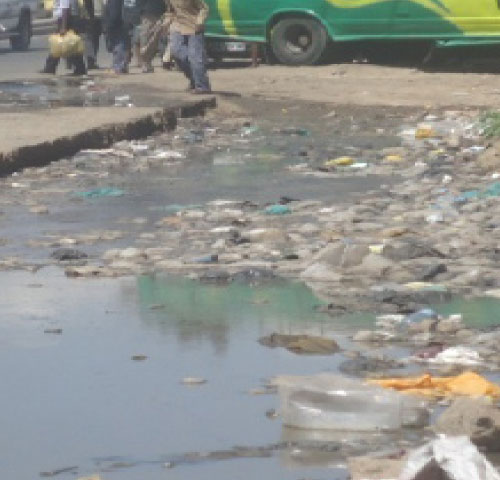 Broken sewer on Jogoo Road discharges into Nairobi river
Raw sewage flowing from a section near the Machakos Country Bus to Nairobi River has frustrated a huge government clean-up campaign.
The Ministry of Environment has admitted to The Nairobian that their effort to clean one of the dirtiest rivers in Kenya is being slowed by the effluent.
Stanley Muturi, the programme officer overseeing cleaning of the Nairobi River, told The Nairobian that although they have made strides in cleaning the river from the source at Ondiri swamp in Kikuyu, the Gikomba section is becoming 'a challenge'.
The sewage pipe on Jogoo Road has been spilling raw discharges onto the busy road.
The dirty water from a burst sewer pipe flows into the nearby river.
"We have talked to Nairobi Water and Sewerage Company but the hitch has not been sorted out well. Every time the pipe is fixed, it bursts again," he said.
But traders near the Machakos station said the problem is bigger.
"The road constructors aggravated the problem and left this ditch that is now ever flooded. The county workers have tried to repair the pipes without success," a worker with Forward Travellers said.
Commuters and pedestrians have also raised concerns over the stench from the sewage.
The Director for Urban Rehabilitation in the Ministry Erick Akotsi told The Nairobian that the Athi Water Services Board is working on an expansion plan of the sewage lines which may stop the pollution.