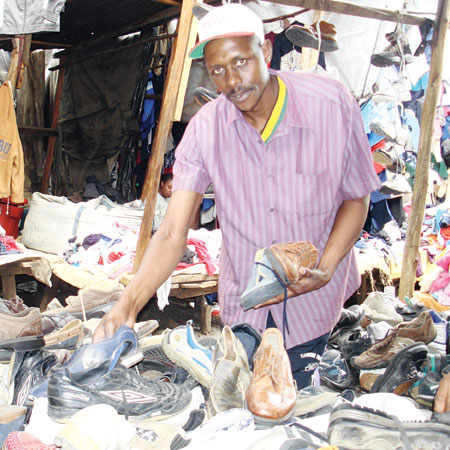 Market traders are now using recorded clips to attract customers.
Touting as a form of advertising for small businesses is changing how buyers are wooed in Nairobi.
Small traders are slowly adopting the digital recording of voices – and even trying out parodies popularised on FM radios and TV – to sell theirs products.
And it is proving cheaper and worthwhile, as some of the small business owners have told The Nairobian that they have stopped hiring touts, buying megaphones or PA systems and car batteries.
Although touting has mostly been associated with the matatu business, it has proved successful especially with a market that relies largely on  word of mouth to make purchasing decisions.  
It is arguably one of the oldest forms of advertising in Nairobi, which many believe began in Gikomba open air market.
Traders at the largest market in Kenya are known to compete for customers with popular lines such as, 'bei ya jioni (last minute price),  'bei ya hasara (throw-away price) and 'Ni ya leo!' (fresh goods)
Another popular touting phrase, 'mali, mali' (goods for sell) is common with hawkers, especially those who sell plastic containers and second-hand clothes in big markets like Gikomba and Toi as well as the estates. Hawkers also mostly use this form of advertising and even at the estates their line.
A tout's voice is booming
Traders  now believe it is  cheaper to record one's voice while touting and replay it for the whole day.   The business of recording a tout's voice is booming at the city centre and especially at popular electronics' street – Luthuli Avenue.
Some who claim to be founders of 'recorded touts' have popularised a few clips, which can be customised for any kind of business such as that of mitumba. According to shoe dealers and boutique owners in the city centre, who are now buying the recorded clips of 'touts', this new form of advertising attracts Nairobians to their shops more than loud music of popular hits that some use. 
The clips mostly used in shoe and clothing stalls in downtown Nairobi are parodies of popular voices on TV such as that of President Kibaki and a Nyanza woman Jane Anyango whose flood appeal on TV dubbed 'Naomba Sirkal', went viral in 2012.
Martin Kimeu, a shoe dealer on Tom Mboya Street said the recorded clips have improved his business.
"Some of the clips are humourous and attract people who are convinced to buy or promise to come back for our Ethiopian leather shoes," he said.