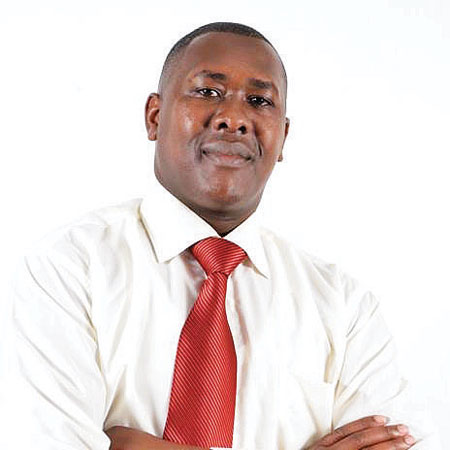 Njoroge Ng'ang'a, broadcast writer at CCTV    Photo: Courtesy
Njoroge Ng'ang'a, 30, is a broadcast script writer with CCTV Africa. He describes himself as having multiple personalities all rolled up in one. He is a writer, journalist, marketer, motivational speaker and a master of ceremonies for events. And it is the latter two roles that have seen him earn a tidy sum away from news script writing. He emcees all sorts of events, from sombre occasions to corporate functions, and gives motivational talks in schools and colleges.
How did you discover you had a talent for journalism?
I actually discovered my abilities almost by mistake. During my school's sports day, the radio was connected to a microphone in the field. I took the microphone from one of my friends and captivated the gathered students and teachers with my oratorical skills. From that time on, I began to nurse the dream of becoming a broadcast journalist.
After school, did you get right into journalism?
No, my dream took a while to actualise. After my KCSE, I got a job with a real estate firm, Royal Gate Limited, in Nakuru town. I was in charge of marketing and advertising.
I got a chance to hone my journalism talent when a radio station, Touch FM, was launched. I quit my job in 2006 to work there. I was a news anchor, specialising in English news and other programmes.
I then moved to Hero Radio, where I was hosting the breakfast show while dabbling as head of radio, before shifting to Sauti ya Mwananchi to host the breakfast show. I then moved to Radio Tehran in Iran before finally moving to CCTV Africa where I am currently a broadcast script writer and a voice artist.
Why all the career moves? I wanted new challenges and a platform for growth. I left the stations having worked in different capacities to pave way for others and to look for a more challenging platform.
What's your daily schedule like?
I start my day at 4am with an hour-long moment with God. I then shower, go online to read the news, eat breakfast and leave for work at 7am.
Is emceeing very different from your day job?
It challenges me like script writing does. It is also exciting as it gives one an opportunity to travel to different places and meet and connect with many people. What does emceeing involve? My job is to understand an event programme, and present it in a fresh, informative and creative way.
How much do you charge?
Well, the figures vary, but in general, an event can attract between Sh20,000 and Sh50,000. It depends on what kind of event it is. For instance, during the Jubilee campaigns last year, I worked as a mobiliser and co-ordinator of the coalition's activities in Nakuru County, as well as being the deputy co-ordinator for the presidential campaign. A single event then would earn me around Sh80,000.
How much do you earn on average?
 Per month, about Sh100,000. But this also comes from my work on documentaries, voice overs and commercial adverts. You have an upcoming motivational book. Tell us about it. It's called Discover Yourself and is aimed at helping young adults discover their God-given talents and rely on them when everything else seems to fail.
Parting shot?
I cannot boast that I have impressive academic credentials, but this didn't stop me pursuing all sorts of opportunities. What I lack in professional training, I make up for with hard work, being willing to learn on the job and natural skills. I believe in making it big in life, and my dream is to one day own a media house.