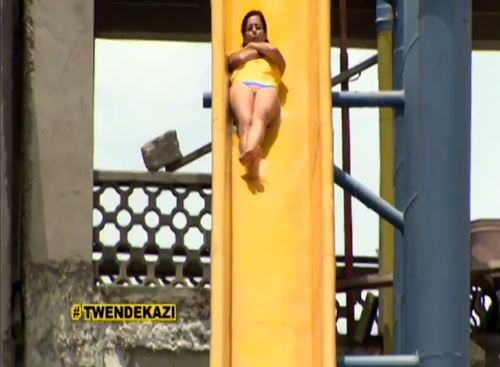 Pinky goes down the water slides    Photo: Courtesy
By Sheila Kimani (@sheilakimm)
Pinky is without a doubt, an outstanding media personality and her teaming up with Thorn Muli of Standard Media group seems to have been worth it in conquering the challenges that were ahead of them.
Having taken the Tusker bottle (that was meant to be delivered to Humphrey Khayange in London) from Papa Shirandula's team, Both Pinky and Thorn were expected to find their way from Bagamoyo to Dar-es-Salaam and eventually hand over the bottle to Jalango's team.
Their challenge was however quite interesting as they were supposed to take a photo at the beautiful Kunduchi Water Park and it was here that Pinky stepped out in a beautiful bikini for the challenge.
Despite having initially thought that all she would need to do was look good for the camera, Pinky went on to overcome her fear of height by swimming down the gigantic waterslides as Thorn closely followed suit.
After successful completion of the challenge, they went on to deliver the bottle at the next pit stop where Jalang'o and John were waiting.
Watch their fun escapades here: