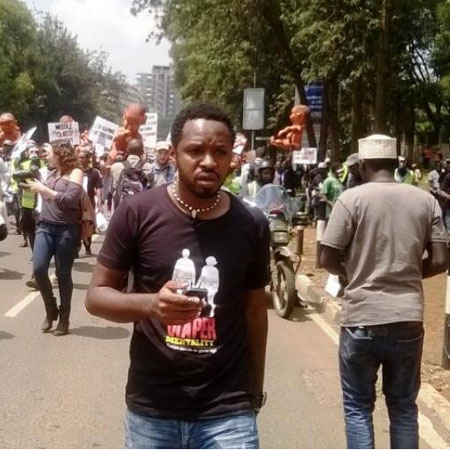 Mwangi at the demonstrations PHOTO: Courtesy
Nairobi, Kenya: Police in Nairobi used teargas canisters to violently disperse a group of protesters who were planning to march to the National Assembly over rising cases of corruption, poverty and insecurity on Thursday morning.
The protesters planned to start their march from Uhuru Park's Freedom Corner but were shocked to find the area sealed off by contingents of riot police.
After a brief argument in which the commander of the riot team insisted the protest had been banned, at least ten teargas canisters were thrown twice at the sizeable group of protesters dispersing them.
"We have instructions not to allow this group to go on with their plans," shouted one officer at the scene as he ordered his juniors to disperse the group. The standoff went on for a short while with the police chasing the group into Uhuru Park near Serena Hotel.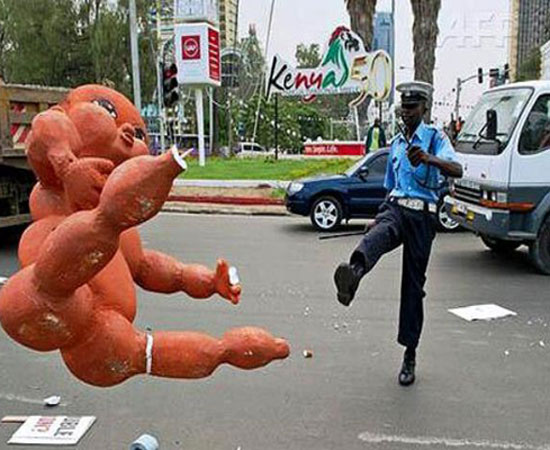 Police officer kicks one of demonstartion props PHOTO:COURTESY
The protest was organised by among others activist Bonny Mwangi and Rev Timothy Njoya. This affected traffic flow on the busy Uhuru Highway and Kenyatta Avenue as the group regrouped at the scene in a cat and mouse game. Police authorities said they banned the protest over security reasons and especially terrorism.
"We will not allow them to hold the demo because there are so many security threats in the city. Some terrorists may join them and throw a grenade as it goes on and that is why we have banned it," said Nairobi police boss Benson Kibue.
 The protest, known as "State of the Nation" was to start from Uhuru Park and end up outside Parliament Buildings. The organisers said they wanted to protest against rising cases of corruption in government, insecurity, unemployment, poverty, mutilation of the constitution and poor leadership in the country.
They had asked those planning to attend to come in black t-shirts, a roll of tissue paper and a Kenyan flag.
Contingents of police were mobilised to seal off any route the activists may use in the protest.