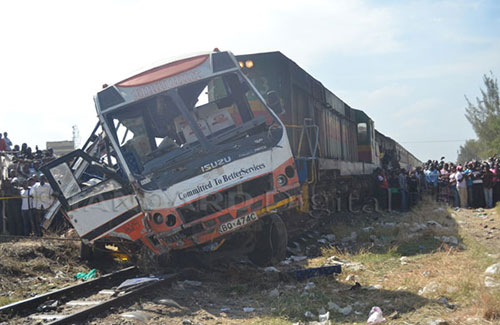 The horrific scene where the train crashed into the ill-fated bus
By Njambi Mungai (@njambie)
The story of road accidents in Kenya has sadly become part of our everyday news but nothing prepared Kenyans for the horror of yesterday's Mutindwa accident.
The idea that a 33 seater bus had been crushed by a train was abit too much for people to digest. Currently the death toll stands at 12 while 21 passengers have various degrees of injuries.
The blame game began almost immediately, as is common with this country. The bystanders insist that the matatu driver ignored the traffic policeman's warning to stop for the train.
The train driver Symon Godia said he hooted aleast four times before approaching the crossing. He also confirms that he saw a traffic officer flag down all vehicles near the crossing as he approached.
The traffic cop himself said that the matatu overtook other vehicles and drove past the red line.
Sarah Wanja, one of the survivors said, "The driver of the bus was speeding, probably to cross to the other side before the train passed. He ignored the hooting train and screams from the passengers to stop."
However, the owner of the ill-fated bus, Edward Okello, refused to take blame for the accident and insisted that this event be treated as a lesson. "We need a barrier to warn approaching vehicles whenever a train is near," he continued.
What infuriated Kenyans more, was the badly written statement on the Umoinner Sacco's Facebook page. It went on and on to ask Kenyans not to blame the management. According to this statement, the bus was not speeding nor was it carelessly driven; it was hit because, it got stuck on the railway track. In fact the police should be blamed for this since it's their job to stop vehicles whenever a train is approaching.
Read their post below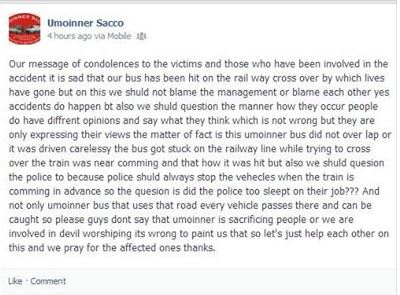 Additional information: StandardDigital
Related Topics