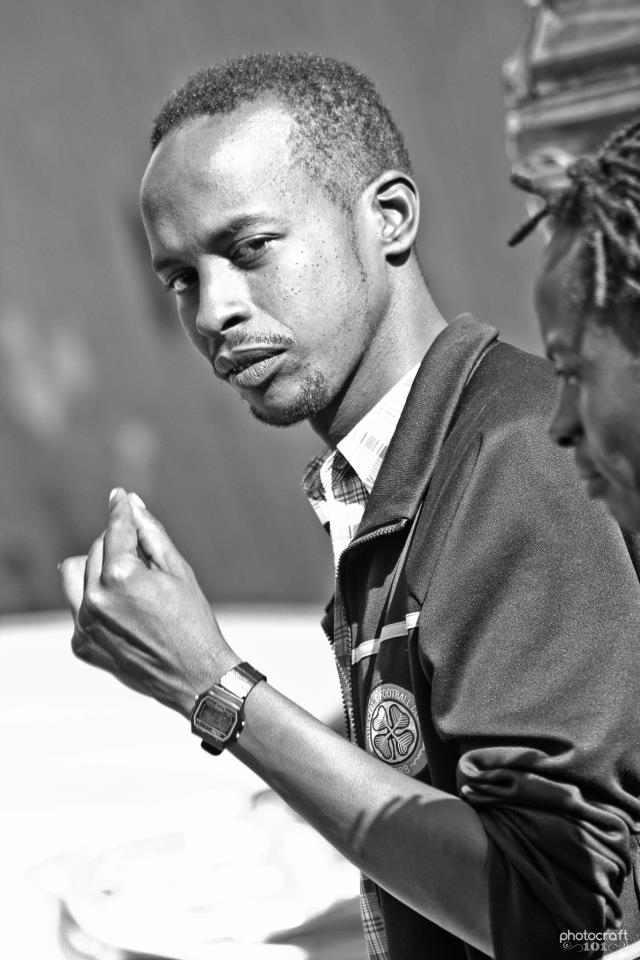 Kantai supposedly went off the musical grid
From a hotshot rapper who dated the crème of Kenyan singers and rapped with the best to suddenly missing in action, leading MKALA MWAGHESHA to dig deep on his whereabouts
In 2004, Kantai burst into the showbiz scene with verve, swag and a refreshingly new flow. At a time when songs and artistes from Ogopa Deejays and Blu Zebra heavily dominated the Kenyan music scene, Kantai, straight from the US, was a fresh sound. Throw in the fact that he was spotted severally with Brenda Ngesa, the sexy lass who alongside the late E-Sir dominated the charts with Mos Mos. They met at a studio in Westlands and hit it off immediately. Kantai described it as 'love at first sight'.
It later emerged that the two were actually living together and sooner than later, Brenda kicked him out apparently because of his drinking habits and infidelity. It is alleged that Kantai could wake up to a beer as early as 9am. Lucky for him, shows and airplay were getting on well with his deep Americanised flow, years before Khaligraph Jones captured our imagination.
In a 2010 interview with Pulse, Brenda summed it up, saying, "I don't wish to go into my relationship issues with Kantai. I think that is all behind us. It will sound rude if I say I can't remember the year I was dating him."
Her song, Good for nothing, was perceived in many quarters as being aimed at Kantai, much as Brenda refuted the claims.
He dropped Happy, besides a then still unknown STL, the female emcee from Norway. In the feel-good song, the duo's chemistry was visible, with speculation rife that they were dating. They refuted the claims, even as they appeared in numerous gigs and functions together. To fuel the speculation, they would later in 2012 release More than just friends, a song exploring the possibilities of illicit friendships that borders on romantic territory.
With hits like Kantada, Jinga Hii, Nare,and Quest among others, Kantai was at this point considered the best hip-hop artiste in the country by a distance, in terms of material released and hits enjoying heavy rotation on radio. 
He was funny on Kewowo, a song that glorifies alcohol. The song and his other hit Issues, were probably a sure sign of the artiste's dependence on the vice and his soon-to-be-troubled future.
Kantai hit a dry spell in 2007 onwards, only punctuated by sporadic singles that were not in the class of lyrical capabilities he had set. His absence was conspicuous. 
"I am currently busy pursuing my projects which I do not wish to disclose," he was quoted on numerous occasions when asked where he was.
Rumours of his drunken state and loss of musical strengths started spreading. Various sources claimed he was religiously patronising a pub called Sinyorita in Matasia, Ngong. He was also alleged to have married a business lady in the town.
"I have received a number of messages from fans in Ngong who claim to see Kantai wasting away in Ngong," said Joe Muchiri, Capital FM's Production Manager and the host of The Cypher, a hip-hop show on the station. He was responding to a request for Kantai's contacts.
Upon getting the contacts, Pulse tried unsuccessfully to track Kantai down, with his manager, hip-hop front man Budha Blaze, claiming the artiste was not well but would unveil himself for an interview in due course. That was in July. 
Interestingly, it is the same Budha Blaze whom he explained his absence from the game.
"It's pretty much investing in the future for my family. You know family comes first," he said.
In the same interview, he expressed an interest to work with Octopizzo and Camp Mulla, way before the group disintegrated.
Pulse contacted the artiste, who upon receiving the phone call, was clearly in distress. While coughing heavily and sounding sick, he gave his reasons.
"I am currently not well but I will holler back in two weeks' time," he said. Two weeks later, upon being contacted he promised to get back.
His tracks, Arabic girlfriend and the most recent What it takes, recorded with Hala-iki family, have given hope to his fans that he might be coming back. ?
In April, Khaligraph Jones wrote, "Chris Kantai is one person that I will forever respect and acknowledge 'cause he did set the pace for a lot of artistes that are in the present music industry. Let's all appreciate this pioneer for the good job he has done and is still doing."
Few can argue with that.