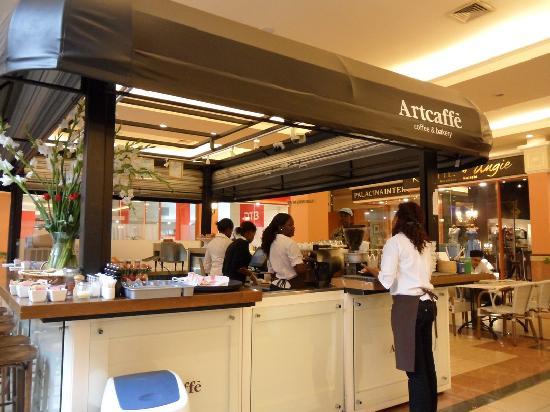 One of the Art Caffe Coffe houses. Photo:Kenyanlifestyle.com
By Njambi Mungai
It all started with a croissant, a word, just like amicus curiae that was known to few. However thanks to an incident that went viral on the internet, the word croissant has been used in every unimaginable way by the ever creative Kenyans.
This week, the upmarket Art Caffe coffee shop came under attack after a Kenyan, Koki Mutua, wrote about her brother being arrested by the diplomatic police at the Art Caffe, Village Market branch. The reason for the arrest was that he went in to buy a dozen croissants but was turned away by the manager because he was ordering too many croissants yet he is black!
The uproar on social media caused other Kenyans who have been on the receiving end of the bad customer service to speak out. Turns out the swanky coffee shop has a reputation of disregarding or just ignoring Black patrons while saving their best service for the white foreigners.
To make matters worse, some white folks even joined in the online protests and confirmed that while they received very good service, their black friends were badly marginalized.
The Art Caffe management remained silent during the uproar. But a few minutes ago, they have issued a statement explaining the incident.
The Artcaffe Family, would like to respond to the Facebook-generated account of what happened at the Village Market Artcaffe Bakery on June 18, 2013.
A customer approached our Village Market branch bakery for his regular purchase of croissants. He was sold a large number of croissants, approximately 50 per cent of the remaining stock. We were happy to have his business; the client was immediately served as per his order.
On noticing the large size of the order, the branch manager advised the customer that in future it would help Artcaffe if the customer made larger orders in advance.
Advanced orders help the bakery plan for the greater need, ensuring that pastries remain available for take-away and in-person customers.
The suggestion was not well received leading to a minor disagreement in which voices were raised. The client was asked to step out and calm down as he was interfering with other customers who were having their breakfast. He left and came back into the restaurant after a few minutes where he had a fruitful discussion with the management team before leaving with his croissants as per order.
In the end the matter was resolved amicably. The manager and customer shook hands and the customer stated that he would continue to be an Artcaffe customer.
NO arrest or threat of arrest occurred during or after the incident.
The disagreement was based purely on the size of the order and NOT on race.
As a Kenyan company we do not tolerate discrimination in any form in our establishment. We employ and support over 550 staff members and their extended families, living and working here in Nairobi.
We work very hard to ensure that our customers get great food and service every day.
Where we have an incident of poor client service we use it as a learning experience to ensure that we improve our customer experience. We encourage customers who have received poor service to lodge a complaint with us to enable us improve our services so that the experience is never repeated.
Artcaffe is and will continue to tirelessly work to improve our service.
We thank all our loyal customers who have stood by us and continue to show us their love and support. We strive to continue to provide you with the best service and food possible and look forward to continuing our lasting friendship.
But we got to ask, is it wrong for a customer to buy a lot of croissants?
Related Topics