Tyrese breaks down at the site of the crash   Photo: TMZ
It was probably one of the most heart breaking memorial moments in the tragic car crash that killed Hollywood star Paul Walker. The crowd held their breath and looked on helplessly as Tyrese Gibson broke down and cried at the scene of the crash.
Tyrese who was a close friend and starred alongside Walker in the Fast and Furious movie franchise, did not say a word at the scene but his tears spoke volumes.
On social media, Tyrese took to his Facebook page to grieve with his fans.
'My heart is hurting so bad no one can make me believe this is real. Father God I pray that you send clarity over this cause I just don't understand.  My heart hurts it's broken no one can convince me that this is real.... Prayer warriors please pray real hard for his only child, his daughter and family... #HeartOfAnAngel13YrsFamilyForever WeJustCelebreatedYour40thBirthday..... My God... My God... I can't believe I'm writing this'
After visiting the crash site, Tyrese took some debris from the car wreckage and posted it on his Facebook page.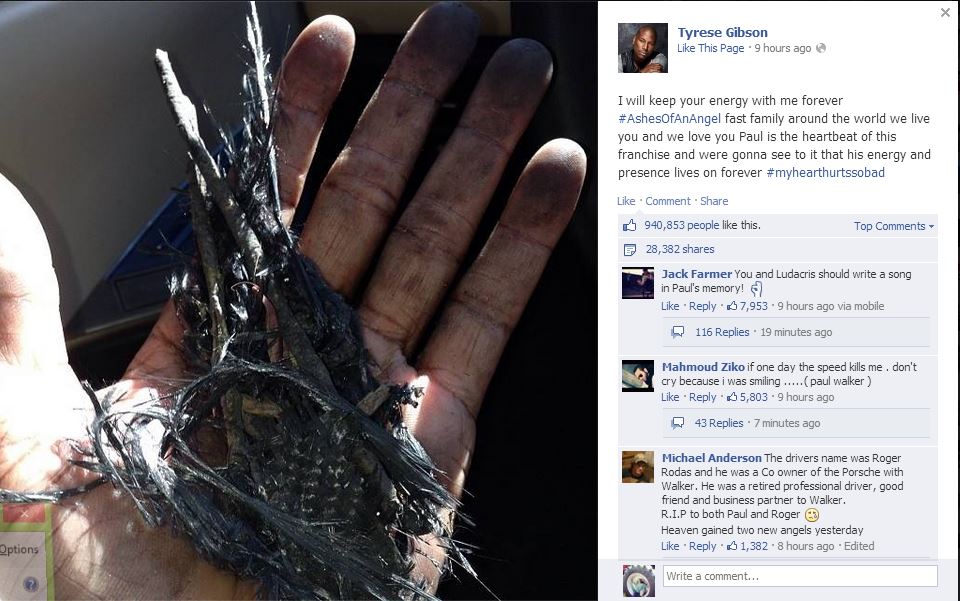 Other celebrities also joined in the mourning with fellow actor Vin Diesel saying, "Brother, I will miss you very much. I am absolutely speechless. Heaven has gained a new Angel. Rest in Peace"
Rapper and actor Ludacris posted, "Your humble spirit was felt from the start, wherever you blessed your presence you always left a mark, we were like brothers & our birthdays are only 1 day apart, now You will forever hold a place in all of our hearts @paulwalker legacy will live on forever. R.I.P."
Jordana Brewster, Paul Walker's onscreen wife, tweeted "Paul was pure light. I cannot believe he is gone."
Actor and former wrestler Dwayne Johnson aka The Rock, who was also starring alongside Walker, tweeted, "All my strength, love & faith to the Walker family during this heartbreaking time. We find our strength in his light. Love you brother."