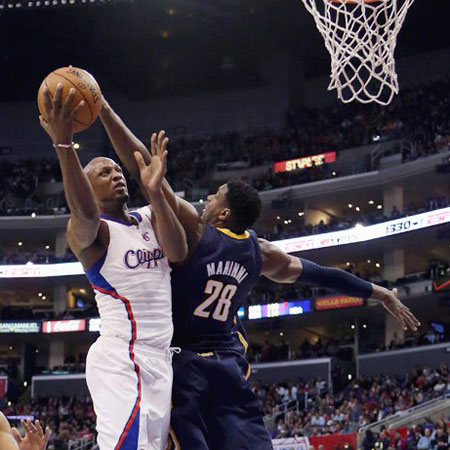 Is it possible that Lamar's NBA career is on the verge of being resurrected? Photo:
Courtesy
"Lamar Odom will be signing with the Clippers in the next two weeks unless he fails his physical," the source says. "It is pretty much as much of a lock as possible."
Wow! So how did Lamar go from skid row to possibly being back in an NBA jersey? It all comes down to the 34-year-old power forward being a good fit for the Clippers, both from an Xs and Os standpoint and in terms of chemistry.
"The Clippers are taking a chance because they need a big man and since Lamar played for them last year, there is a familiarity with the team and they are confident he will be able to help them out," says the source. That familiarity may be the most important part: "The overall thoughts are that he will not be a cancer to the locker room because he is friendly with most of team from last year."
Plus, the source points out, the Clippers new coach Doc Rivers is known for being a "no-nonsense" leader who should be able to instill a little discipline in Lamar, or at least be willing to drop him if he gets out of line.
The general assumption is that Lamar will sign a contract for the league minimum, which amounts to about $1.4 million, since Lamar is an NBA veteran of over 10 years.
Source: Hollywoodlife
Related Topics