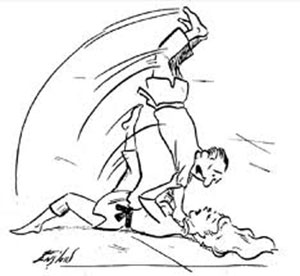 By Pkemoi Ngenoh
A middle-aged woman attacked and injured a conductor in a matatu plying Jogoo Road over her 10 shillings balance.
The mid-morning incident left the conductor nursing injuries on his face. According to a passenger who sat next to the woman, the attack was prompted by the conductor's refusal to give the lady her change.
The conductor reportedly turned a deaf ear to her pleas. The woman, who had exhibited a show of muscle, as she struggled for a seat, was not in the mood of letting go of her money.
Collective support from other passengers only served as a motivation for her renewed energy in demanding her right.  It was while alighting at the City Stadium bus stop that the woman turned on the conductor grabbing him by the neck and dragging him from the half-moving vehicle to the tarmac.
The woman unleashed calculated kicks and blows before removing her high-heeled shoes to thrash her tormentor on the face mercilessly.
The incident left bystanders in shock yet fully entertained.  It took the intervention of other touts to save one of their own from the embarrassment.