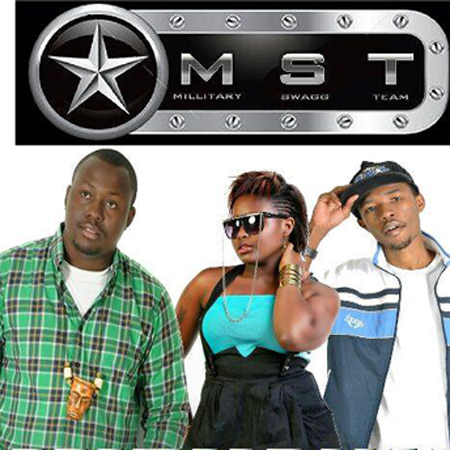 Military Swagg Group             Photo: Facebook\Military Swagg Team
MILITARY SWAGG
Mid February saw the group, signed to Sub-Sahara Records, release the 12-track album titled Mkwanja at the Goethe Institut auditorium.
The trio – Deebouwy, Kush and Stunna Stan – have seen their hard work pay off, with their hit Give it to Me, featuring Kanja and Big Soul becoming a favourite with continental music channels.
"The unsettling images of hordes of talented youths being lured into drugs abuse, prostitution and crime within the Coast where we all hail from, intrigued us to pursue our talents in music," says Deebouwy.
The group was formed in 2011 but officially debuted into the showbiz scene in 2012. Along the way, they released a mixtape dubbed Road to Riches which gave the public a feel of their music.
TRAP TOWN
The group, which was compared to Camp Mulla when they released the hit City in my Backpack laughed off the comparison, explaining that they have their own distinct flow. 
The group that comprises of youthful Fresh Kid, Shamey, Dane and Marcos Lloyd is set to wow the country.
"We figured that with an urban rap style and identity that can transcend borders, we will appeal to a much bigger crowd. We fuse both English and Swahili to make sure none of our fans are left out," the group remarks.
With financial backing from Bernsoft Interactive, they have managed to achieve a lot in a short time, while balancing between music and school.
JOVIAL
The 22-year-old Juliet Ayub was lucky to have a friend who knew celebrated Calif singer Jua Cali.
The friend introduced the two and they met in Nairobi where Jua Cali decided to sign the upcoming artiste for a three-year deal at Calif Records after listening to her unreleased material.
That was in September 2013. "We did Jiachilie (where Jovial did the vocals for the hit song), and more is to come," says Jovial, who is set to release three songs with her previous label, SQ Records, in Mombasa.
"I am so excited about the deal because I am the only female artiste at Calif and the fact that I have an opportunity to achieve my dreams," she adds.
 CYPREEZY
Cyprian Obonyo, 21, came into the limelight after participating in the Nokia Don't Break The Beat Challenge in 2012, where he clinched the fourth spot nationwide.
Using the platform to launch his budding rapping career, Cypreezy, who is also a part-time actor, has managed to gain popularity by releasing three videos, Punjani, Uzushi and Rapper featuring Empress. "I do not have a favourite genre of music because I believe I am versatile," he says.
Cypreezy has shared the stage with among others Octopizzo, Rabbit and Diamond.
 KAA LA MOTO KIUMBE
When leading Mombasa female artiste Nyota Ndogo was looking for a rapper to collaborate with on her upcoming album, the punch lines of upcoming artiste Kaa la Moto Kiumbe caught her attention.
"I have been in this industry for long and I have heard many rappers.
 But when I first heard his lyrics, I realised he was what I was looking for," said Nyota of the rapper, who hosts hip hop events in Mombasa.
Kaa La Moto attributes his lyrical prowess to Tanzania roots, where he attended school, as well as his love for hip hop.
 "Having worked with Kidis, Susumila, Ally B, Dogo Richie among others, I can confirm that I am the hottest emcee at the moment. No one comes close," he says.
NETTO MOFIRE
More Fire was the first official song of the artiste who started music in Mombasa at Jungle Masters under the producer Emmy D.
The soulful vocalist, who has done six songs so far with love as his main theme, has done videos for More Fire and Nieleze, featuring Ugandan artiste Judge.
"I am receiving mentorship from industry stakeholders like Willy Tuva, who is pushing me on," he notes.
CASH ERA
Another sought-after artiste is 22-year old Cash Era, whose song Sususmila asked to be included in the remix. Chiringongo, a single he released late last year, is set to be remixed, with Susumila, Kigoto and Shembwana featured.