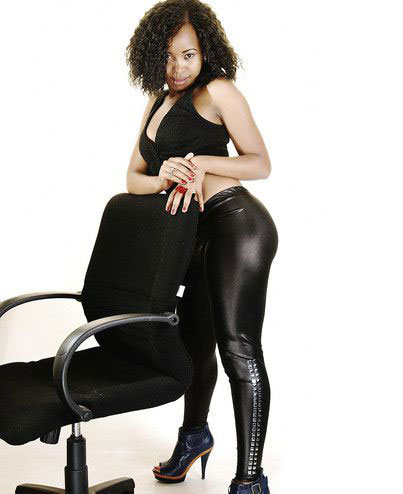 Juliet Kwamboka aka Toxic retired from video vixen.   Photo: Courtesy
By Rose Kwamboka and Esther Muchene
Miss Kenya 2013, Wangui Gitonga
On the said day of the auditions, she had no plans whatsoever for the day so she accompanied her little sister to the auditions. It was while waiting in line that she was urged by Julia Achieng aka Beyoncé who was one of the organisers to give it a try. She took a while to think over it before making a late decision to participate in the auditions just for fun and even missed her audition's photo shoot session as she had to go back home to change.
Surprisingly, she ended up as the solo qualifier for the two-day auditions held in both Mombasa and Voi. After a rigorous boot camp she emerged Miss Kenya 2013, a well-deserved win.
Neema Ntalel
The Kora award winner and praise and worship team member of the Mavuno Church — way back in 2007 — shocked many when she stood before the congregation and confessed an indiscretion that seemed to seal her fate as a gospel singer. She confessed that she had an affair with a pastor at the church, with some saying she enjoyed preferential treatment as a result, and that she was pregnant. The pastor involved broke off his engagement after his then fiancée found out. Unfortunately, seven months later Neema suffered a miscarriage.
She explained that she is 'only human' and therefore prone to fall from grace.
"I could have had an abortion. I could have forsaken my faith and left the church. I could have been out there shifting blame on others. But I chose to keep my faith, to confess before the church and move on. I want to live my life to my call. I have to bear this burden. For now I will sit back and let my heart heal, then I will get on my feet again, fresh to serve in the worship team,'' she told the Pulse then.
Janet Kanini Ikua
After having tried out to get into TV seven years before her breakthrough, she just happened to talk to the right person at the right time and everything else fell into place.
"I did a poetry performance with the Kenyatta University poetry lab and afterwards I got a theatre scholarship that was sponsored by Kenya Wines Limited. So for two years I was at Phoenix Theatre when, while working for an Internet company, I did a Sibi Okumu play called Role Play," she said.
As it turned out, Sibi was doing a show in KTN at the time and they started talking about television. He was going for a meeting and invited Janet to accompany him. As fate would have it, KTN was doing screen tests for news and other shows and she tried out for news. Instead, she was called back to do the Out and About show and the rest, as they say, is history.
Juliet Kwamboka aka Toxic
She started making headlines right from high school with her sexy dance routines that best lived up to her name; Toxic. She seemed to have her future set as she joined the enviable Sakata dancers. This drama queen proved that she could dance and paved way for professional dancers being on stage with the likes of Wyclef Jean and appearing in Chiwawa's video.
Controversy and rumours followed her though because of her crazy stunts and rumoured liaisons. This was soon followed by a trip to Germany with her husband and son, from which point she took a different path all together and the last time was spotted, she was struggling to notch up a music career although many have forgotten this once famous dancer and choreographer, with the younger generation having no clue who she is.
Henrie Mutuku
Also a Kora award winner, many remember her for her petite size and sultry voice until it was rumoured that she had an affair with close associate and fellow gospel artiste Rufftone, whom she featured in her Usichoke track. As soon as word got out she went underground and kept mum. The artiste, who started out as a background vocalist for other gospel musicians such as Pete Odera, was rumoured to have flown to the UK and that would be the last of her or so it seems.
When sought for comment, Rufftone told the Pulse that nothing had happened. ''We were pretty close but nothing beyond that. We never got sexually involved.'' To confirm his statement he insisted that a follow up interview with Henrie to confirm would be in order, but she chose not to comment.
Kaz
From the very onset, controversy seemed to court this damsel, starting with the incident at the project fame in South Africa where she put up fellow Kenyan, Didge, up for eviction and saved a South African competitor, leaving a bad taste in many a Kenyan mouth.
She rose fast and went down as fast, although she has tried to remain in the limelight with a few projects here and there. The one incident that besmirched her then taking-off career was when nude photos of her surfaced on the Internet.
Back then, it was a scandal — the current shenanigans of socialites, socialite wannabes and practically anyone who fancies themselves popular posing nude were unheard of — and she had to pen a long email to vent. She explained that an enraged ex-boyfriend had leaked the nudes, which gave her an instant (dis)repute and saw her lose loyal and adoring fans.
Trying to salvage what she can, she has managed to record three albums, start a clothing line, appeared in several projects including stripping down for the cameras for the breast cancer awareness campaign last year.
Last but not least, the Broadway vibe that saw fans and well-wishers raise funds for her education but later on, as the famous saying goes, Nairobi ni ndogo— she is still around.
Teacher Wanjiku
While doing what she loves to do; acting, an opportunity presented itself when she did an audition for and got the role of a rural teacher in the play 43rd Kenyan Tribe in 2009. So memorable was her character that it formed the basis for her fast rising career.
"The idea behind the play was to sensitize the government about the accents Kenyan teachers have when teaching. It turned out the director was present was so impressed and I realised I could make people laugh," she recalls.
Two years later, she dove hook line and sinker, with her stage moniker-Teacher Wanjiku and her classroom skits becoming a major hit overnight with more than 200,000 video views of that Churchill episode, and set her up for a career in comedy. Already, she has been approached by several corporates for lucrative deals.
Esther Arunga
This intelligent and beautiful lady stole the hearts of many Kenyans with her eloquent soft-spoken persona and comely image that made it calming to watch news. Then out of the blues, her career took a controversial downturn when she unceremoniously quit her job.
The train of events that followed saw her join the Finger of God church, get married to a man with shifty credentials and lived a life so twisted, she once said she had to leave the country— a fact that could not even be confirmed, in the first place. Her life became the quiver for all types of questions surrounding her credibility; from drugging allegations, government involvement, secret societies, sex and church scandals and law suits.
Kenyans are yet to come to terms with what happened to this loved lady and hope for the truth, somehow.
Sision Torome
A model and actress in the local TV drama Tabasamu, this siren's moment of infamy came when she was invited onto stage during the P-square concert in 2009. A potent mixture of excitement and groupie syndrome got the best of her as she jumped over the barrier, forgetting one minor detail: she was wearing a micro-mini skirt, with nothing underneath.
As fate would have it, she was 'caught out' flashing her most prized possession that chilly night. From then, little was heard of her after her character was removed from the show and with roles diminishing apparently after her manager saw the photos on the Internet. After a long lull, she recently resurfaced with a role in a continental show.
Namtero Mdee aka Tero
Alleged to have gotten married to a Tanzanian prophet who was married before, this story sounds eerily similar to Esther Arunga's.  The talented Tero also suddenly quit her job at KTN where she hosted Str8Up and at Homeboyz radio. She later posted on Facebook that the Rabar brothers who solicited sexual favours from her, citing it as her reason for resignation.
Bonoko
He was an eyewitness to a shooting that took place at Ngara, something to do with a mutura vendor caught urinating on an alleyway, who was shot and framed as a suspected thug. His characteristic slurred speech and monotonous drone from the interview was given a beat and used by a DJ to create the song Bonoko.
With the song enjoying massive airplay, there was hue and cry with many requesting that the interviewee should benefit from 'his' song. Ghetto radio then gave him a chance to co-host with Mbusi in the afternoon segment. Mbusi has since left, giving him the chance to showcase his skills on the Goteana show, he has been able to keep his fans interested being careful to remain down to earth.