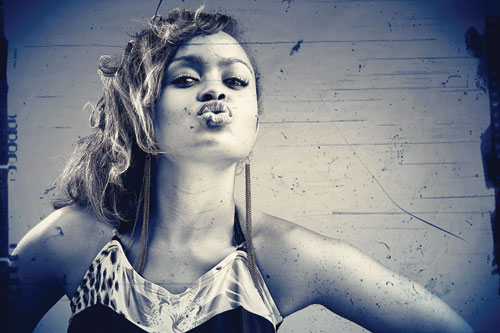 On Monday, Grace Dabaly aka Dahlia, a former Calif Records affiliate, was on location with Grandpa CEO Refigah shooting the video to her new track, Niache Niende. The sassy socialite who has appeared in several videos among them Kendi's Nipe Boy single featuring [email protected], became the latest Grandpa recruit. She joined a pool of celebrated stars like Wyre, Ameleena and DNA who have been associated with the new Grandpa revolution.
With a number of hit songs like Kamua Leo Remix and DNG's Maswali ya Polisi ruling music charts for the last six months, the new kids on the block have stirred a new wave in the recording industry that was once dominated by Ogopa Deejays, Blu Zebra and Calif Records.
The new wave saw the return of Jomino Records that had shut down after the exit of DNA and other artistes like Kenrazy, G-Kon, Kaya and Leduc with the rapping boys trooping back to their old home.
It is no longer business as usual with the new rise of the likes of Lampstand Records, Boomba and J Blessing Studio, among others also leading the onslaught with top videos to justify their bargain.
The release of major hits and signing of top artistes have been the major benchmarks when it comes to rating the supremacy of a recording house. Ogopa, for example, gained its prominence by signing the late E-Sir, Nameless, Wahu, Tattu, Longombas, Deux Vultures, Amani and Mr Googz and Lenny, all of whom changed the entire showbiz landscape in East Africa.
Their unique Kapuka beat became the Kenyan music signature tune across Africa. This was before Calif came up with Genge, posing a new musical front with Nonini, Jua Cali, Pili Pili, Calif Angels taking over the showbiz scene. Then there was the spark that saw Nonini and Pili Pili fallout with the Clemo-owned studio to go separate ways.
However, the current cutthroat showdown is a high tech game in which marketing skills, networking cartels and technology are at play besides the major ingredient of quality and unique sounds, contract deals and finances charged by each studio besides other hidden costs.
In fact, it is the small issue of favourism by stable owners to some artistes, and constraining sign-up contract deals that have caused most of the artiste fallouts and exodus from most of the pioneer recording houses whose grip seems to be loosening.
The departure of Size 8, Kendi and Alla C from Calif is said to have been catalysed by an overwhelming attention on Jua Cali and Mejja, the two top Clemo dimes who seemingly have been the stable's geese laying the golden eggs, over the years. G-Kon also made an exit from Jomino, raising issues of poor management only to return six months later after making amends with the stable's boss.
And as the artistes on the move are received by rival studios with open arms, the question of witch-hunt and undercutting of previously signed deals seems to be stirring cold war between stable owners, with a number now claiming that their competitors are paying artistes to leave their studios by back-stabbing them.
It is a big money war as each stable tries to claim their share of the pie in the million-dollar industry where music audio and video production have become a major income earner even for amateur producers. While some stables are charging Sh20,000 per artiste to record an audio music track, others are making a kill with rate cards standing at Sh200,000. Videos are even getting charged up to double that figure.
The matter is even getting complex as talented artistes who now have finances get signed into deals that see them give away rights for the songs, not factoring the long term impact of the sealed deals. Some artistes whose songs are major hits now wallow in financial misery as producers laugh their way to the bank, making a kill through registration of songs with call back ringtone companies. Others have become mere puppets who will perform in events organised by their producers, only to get peanut pay as the producers, now turned managers, pocket the lion's share.
Recently, an artiste was forced to ditch a recording house after discovering that her producer had made thousands out of deals he had made with several clients on her behalf with the cash never reaching her.
But then, just who is who in this new showbiz power play? 
Grandpa Records             
Pioneered in 2010, Grandpa has remarkably surpassed the ranks to be amongst the leading stables. Upon noting the challenges old stables were having with artistes, Refigah and DNA came together to establish a new home for artistes who were ready to work as a team and make a new sound in town.
Refigah recruited new artistes other stables did not even want to be associated with, going as far as Mombasa to get new talent. In less than a year, the stable became a powerhouse with more than 20 artistes creating buzz in town with hit after hit. Soon, established artistes joined the stable and now, Nairobi is dancing to the new Grandpa beat.
Amazingly, Ogopa Deejays, who are seen as Grandpa's close competitors, have at times, been seen to work with them, especially when it comes to videos.
Calif Records
Before internal strife crushed Calif down to its knees mid last year, the stable had managed to identify and nurture big names like Nonini, [email protected] and Jua Kali through their funky and catchy Genge beats.
With ease of accessibility and growth potential within the stable, Calif was the stable whose popularity and niche surpassed that of Ogopa, Decimal and Homeboyz, who were then seen to be demographically established, for the moneyed and classy.
Then came the mass exodus that saw Size 8, Q-tasi, Kendi and others leave due to management issues, with the artistes complaining of favouritism, miscommunication and unprofessionalism.
At the moment, Jua Cali and Mejja are the most relevant artistes within the stable, with the others playing an unsuccessful catch up game and even opting for greener pastures.
Homeboyz and Jomino Records
With state-of-the-art studio equipment and professional producers, what had started off as Homeboys Deejays formed a recording label in 1995, and one could ignore the sassy 'Homeboyz producshizzle' link that signified a trademark of their work in music.
Unlike other production stables, their aim was to get upcoming artistes and help them produce their music — that was as far as the deal went. To date, Homeboyz has worked with an array of big artistes and is planning a new mentorship programme to introduce six new upcoming producers to the industry. Sadly, most artistes they have worked with end up joining other well-established stables.
In 2006 somewhere in Madaraka Estate, a new studio, Jomino was launched. Their aim was to help upcoming artistes, and albeit being set up in humble surroundings, impressive artistes like Kenrazy, Kaya and G-kon found a home through which they achieved breakthroughs into the industry.
After years of hits, Jomino suddenly faced a management crisis forcing Eric the artiste manager out of the stable in 2011.
Today, however, after moving from Madaraka to Ngong', Jomino seems to have upped its game and is ready to swim in the 'shark' infested waters.
Hornets Records and Tabasamu
After the opening of Hornets Records in Mombasa two weeks ago, a new era had begun with most of the Coast-based artistes endorsing the Mama Sozi-run stable.
Some years back, all artistes who were ambitious and ready to make it in Mombasa had to record at Tabasamu Records. Bably Omar, the versatile producer, was making hits, and he is the man credited with introducing professionalism in Mombasa showbiz. Nikiwa ndani, by Prince Adio, Street hustler by Cannibal and Sharama by Kingsting and Bedbug, among others made Bably stand out. Sadly, Tabasamu Records might just be that — history.
Phoenix and Sub-Saharan Records

With local hip-hop music taking over our airwaves; the stable behind most hip-hop jams right now is Phoenix. The stable houses Abbas, Sugar and Bamboo as the main artiste while Savage Warriors, Lon Jon and Lavosti are also associated with it.
But then giving Phoenix a run for its money is Sub-Sahara, synonymous with the success of Camp Mulla's first album Funky Town. Others include Link Video, Lampstand and Katenga Productions among others.