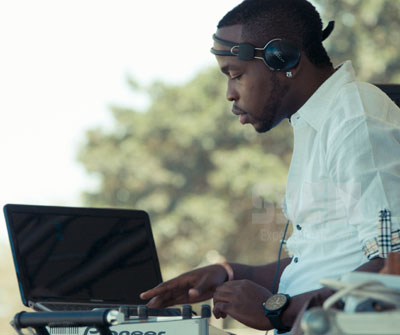 Purpl Addiction
By Esther Muchene
In a crowded field were every player is literarily jostling for space, DJ Purpl seems to be cutting a niche for himself barely three years since he joined the game.
He seems to have mastered his spinning art. Probably, all he needed was the platform the monthly Mingle event afforded him, an opportunity he maximised to create a fan base big enough to spin him to his showbiz breakthrough.
With tomorrow's much hyped Nairobi Boombaataa festival resting on his shoulders, it does not take a rocket scientist to conclude that indeed DJ Purpl is on top of his game.
But just where has this versatile lady-charmer emerged from to beat the park of experienced spinmasters to the tape? Who is behind his great spinning skills?
DJ Purpl says he his self-taught. His inspiring story blends pure determination and passion to succeed.
"I used to go to clubs and watch DJs do their thing and that is how I started shaping up my deejaying skills. It was all driven by sheer passion," he says.
"Pinye, in particular, inspired me. I would watch him play and that way, I picked all I could just by seeing him and others play.''
Being a fast learner, he managed to land his first gig at Carnivore where he was the in-house DJ. That was three years ago.
Soon, he enlarged his territory, moving to other major clubs in urban Nairobi like Sohos, Tamasha and Amboseli Gardens. He refrained from the temptation of getting signed to top deejaying stables (who many a times attract the big corporate gigs cash) and decided to lone range, making a name for himself as a solo deejay worthy watching. Besides, his previous experiences in the entertainment and hospitality industry came in handy.
"Am actually a chef by day and a DJ by night. Being solo helps me balance both worlds and take what I can handle,'' says DJ Purpl, who also has interests in modelling.
"For me, it's about making people happy. That's the inspiration behind my sets. I take this as an art, which I totally love and enjoy. On top of that, that's why I chose the name Purpl. Besides meaning 'royalty', purple is the name of a very addictive drug. And like my style, once you hear me play, you are hooked,'' says the spinner.
Even though he does not give details, DJ Purpl confirms rumours that he has been receiving influential support from a Nairobi business magnate, who is partly behind his success.
Asked what makes him different from every other DJ, DJ Purpl is quick to point out that he fuses Afro beat with brand new music styles, which most DJ's try to avoid, creating a new touch in the deejaying world to the joy of his fans.
"Am working on improving myself because competition is stiff. I want to remain different from the rest. And this is pushing me to source for music from unusual places. I want to work with international artistes to get new stuff as well as local underground artistes,'' he says, keeping in mind that he will be put on the spot as he mixes Ice Prince, Davido, Victoria Kimani and other artistes' jams during tomorrow's show.
In such a short while, Purpl has earned good exposure, internationally and shared the stage with reputable stars. In particular, he pin-points his recent performances in Malaysia and Dubai.
"It has not all been a smooth run. Sometimes you are invited to gigs where clients refuse to pay. That should not make one give up. After all, the DJ industry in Kenya is growing and getting recognition everyday. Our deejays are now playing for Channel O and that is a great feat," he remarks.
Related Topics