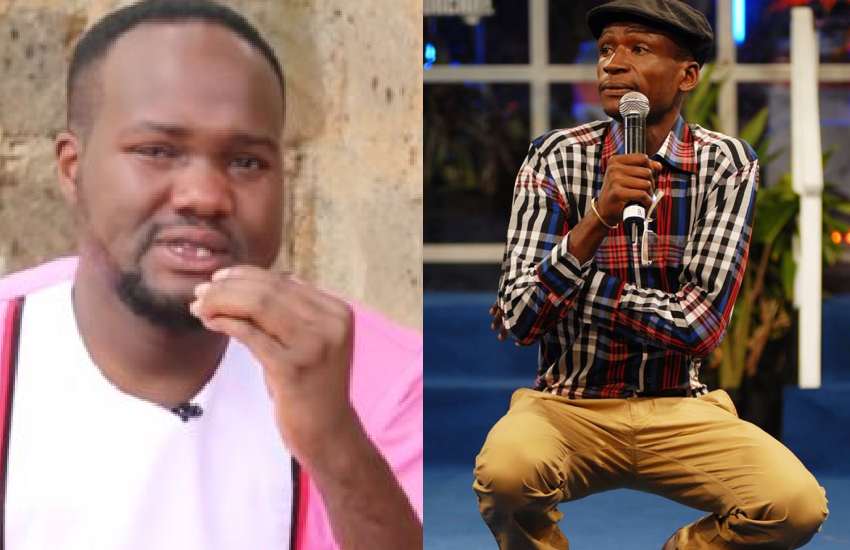 Former Churchill Show comedian Paul 'Wakimani' Ogutu has come out to clarify that he did not kill nor sacrifice the late Emmanuel Makori popularly known as Ayeiya in 2017 as it is being alleged. Speaking at an interview, Wakimani revealed that the allegations that he had something to do with his colleague's death and should pay Sh21 million in compensation and damages, broke his heart.
Read Also: Comedian Paul Wakimani confirms Sh21 million suit by Ayeiya's family
According to Wakimani, there was no malice in Ayeiya's passing following a road accident on Magadi Road that year. "I did not kill this person. Before God and before my heart, I did not kill that person. That person died in an accident. Everyone knows, including me, who was there. Why should someone come and say you killed this person intentionally? Ati it was malice," he said.
Wakimani broke down as he explained that he wants phone records to be pulled, proof that it was Ayeiya who reached out to him, requesting that he be dropped off at home with his wife after a Churchill Show recording. "I would want hao watu wa DCI, waende Safaricom, wajue ukweli, kwamba, even on the day he died, he requested me to go for him. We were not together. He called me. Personally Akaniambia bro, nikujie. Nikujie niko hapa Carnivore. Mimi, na moyo wangu, nikatoka akiwa pekee alikua anapambana na hali yake. Anaenda show, anarudi nyumbani. He told me leo niko na wife bro come unichukue. Nikaenda nikamchukua na huyo wife," added Wakimani.
Read Also: Death robbed me of my mentor - Njoro speaks on losing Ayeiya
He underscored that there was no way he would have targeted Ayeiya considering he was not the only passenger in the vehicle. "Ata kama mimi ni dereva wa safari rally, gari mko mtu nne, unaeza target mtu mmjo na uue mtu mmoja na hao wengine wa survive? Nilikufa moyo mamaa," said the comedian. In the suit, said the comedian, Ayeiya's family arrived at the Sh21 million settlement from the late comedian's earnings that they said were stood at Sh300,000 every month and since he would have retired at the age of 55, made a calculation of what he would have made from his craft had he survived. "He was 31 when he died and so they did the calculation for the remaining years. They also said I would pay for the damages," he said.
RELATED ARTICLES