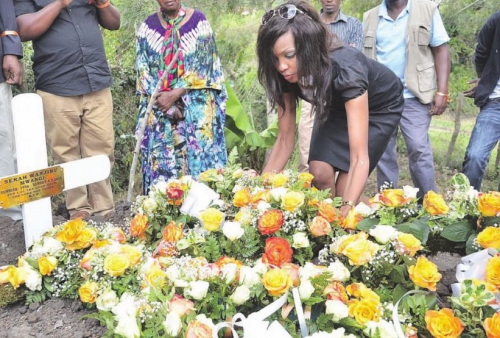 On Cecilia Mwangi's left hand is a two-week old tattoo reading 'Cherise', her three-year-old daughter's first name. It was meant to read 'Sarah', her late mother who was murdered only two days after the two dined and partied a weekend away in such a memorable style that Cecilia decided to dedicate a tattoo to her. Her mother was against the idea.
The former Miss Kenya and anti-jiggers campaign ambassador's mother had travelled from their Sango Farm in Saboti, Trans Nzoia County, for a weekend - a routine she usually did during her 10 years' stay there, to keep in touch with her family.
"Mum was like a big sister and we would party and make fun until she reminded us that she was not our age mate. On this weekend, we had dinner and went out for rhumba and partied like friends would. The next day, I called someone to do us tattoos and having been so close with her, I decided to dedicate a tattoo to her, something she opposed and asked me to do that for my daughter," Cecilia told Pulse during an exclusive interview this week.
"She travelled back on Sunday with a huge load of electronics, a number of television sets and other household electronics that she had purchased for the Kitale house. The last time we talked to her was that Wednesday afternoon. On Thursday, her phone went unanswered," the former title-holder narrates.
The following day, her phone was still off, something Cecilia describes as unusual. Perturbed, she called a neighbour, a pastor whose number her mother had shared with her, and requested him to go and check up on her. That would be the beginning of a mystery, the disappearance and eventual murder of her mother that has left Kitale people in shocked murmurs.
"When the pastor asked our grandmother where mum was, she said she had not seen her since she had said goodnight to her on Wednesday. The house-help said mum had left the house on Thursday morning after opening the house for her and did not come back," Cecilia said, as she starts to break down her mother's mysterious disappearance which left the family in shock.
"There was something strange happening. The house-help was uneasy and the shamba boy was at the time moving household goods from the main house to the servant quarters, saying he was working under instructions from mum. My grandmother found that weird. She rushed to the chief's office and reported the matter. Immediately, we took off to Kitale, not knowing what to expect," Cecilia went on.
"When police from Kitale Police Station came in and started doing interrogations, the house-help changed her previous remarks, saying she had found the door to mum's room open that Thursday morning."
As the police went into the house, they stumbled on blood stains on the corridor, stains the house-help is reported to have said were from a slaughtered chicken, just before she broke down!
The electricity to the residence had been cut off that Wednesday night. According to testimonies Pulse gathered, the houseboy had called in interested people to come and buy household goods, chickens and 15 Australian merino sheep. Some of the prospective buyers were brought in by a boda boda rider as the police arrived. The boda boda rider, the househelp, the shamba boy as well as two other people have since been put in police custody to help with investigations.
That Saturday, two days into the search for Cecilia's mother in the family's expansive 25-acre farm, there was a new development, a phone found inside the shamba boy's room gave further leads into communication that had been going on, netting in a prominent Kitale businessman.
Two other men said to be from Nairobi have also been mentioned as possible suspects in the murder. The owner of the phone, a neighbour who had been spotted hanging out with the shamba boy that Wednesday, is also in police custody, helping with the investigations.
"The househelp kept on giving clues of what had happened. She was inconsistent with information and had led us to believe that our mum had been dumped in a nearby swamp after the murder. We later stumbled on her body inside the poultry house, on Monday, the fourth day of the search," Cecilia told Pulse.
Autopsy results showed she had been strangled with two sharp wires.
"This has been a real traumatising ordeal for us as a family and we want justice done. Police have been moving with speed and we do believe the real killers will soon be known," she said.
Sarah Mwangi, 59, was given a good send off last Saturday during a burial ceremony held at the family's Ngong' farm, attended by hundreds. Investigations into the murder are on.
Related Topics